Elmlea Easter Trifle
Feeding the family is a trifle this Easter with our latest festive special. Combining a brownie base with dollops of chocolate and crushed raspberries, this dessert delivers happy hours of egg hunting within layers of long life Elmlea whipped cream. A celebration of all the things that make Easter great, this is an easy crowd pleaser that proves just how tasty holidays can be.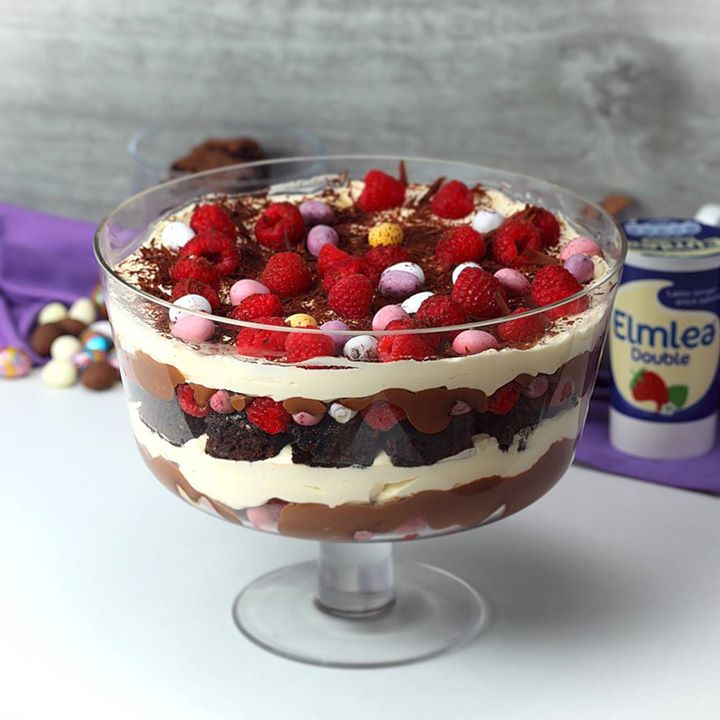 Ingredients
Chocolate Pudding:
6 tbsp sugar
3 tbsp cornstarch
1 tbsp cocoa powder
¼ tsp salt
300 ml Elmlea Double Cream
300 ml milk
1 tsp vanilla
1 tsp instant coffee
75g dark chocolate, finely chopped
Cream:
500ml Elmlea Double Cream
2 tbsp icing sugar
400g chocolate brownies
Chocolate Eggs
Fresh Raspberries
Chocolate Shavings (Optional)
Instructions
In a medium saucepan, whisk together sugar, cornstarch, cocoa powder, and salt. Add cream, milk, and vanilla. Whisk until cornstarch is completely dissolved.
Place saucepan over medium heat. Cook, whisking constantly, until mixture comes to a boil and thickens, about 7 to 8 minutes. Add chocolate, and cook, whisking until chocolate is melted, about 1 minute more. Transfer to a bowl, cover with cling film with it touching the surface. Chill until set.
Place the 500ml cream, icing sugar in a bowl. Whisk to form stiff peaks.
To assemble, layer up the brownies, followed by raspberries and chocolate eggs. Top with chocolate pudding and whipped cream. Repeat then top with additional chocolate eggs and raspberries and chocolate shavings (optional).
Chill for half an hour and then serve!
Watch the recipe video here:
Elmlea Easter Trifle #ad

Posted by Twisted on Monday, April 9, 2018