Cookie Dough Pie
Never turn your oven on again.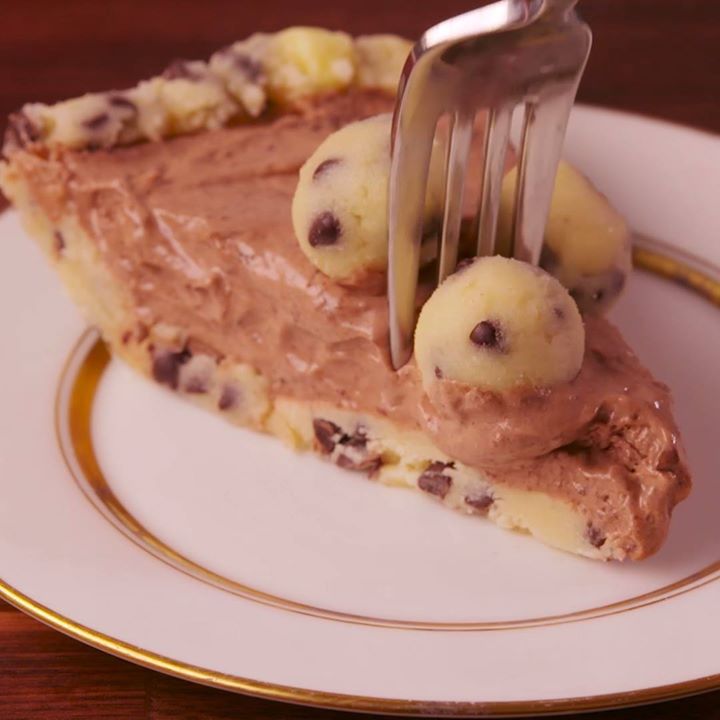 Ingredients
FOR THE CRUST
Cooking spray, for pan
1 c. (2 sticks) butter, softened
1 c. sugar
1¼ c. all-purpose flour
¼ c. milk
2 tsp. pure vanilla extract
½ tsp. kosher salt
1 c. mini chocolate chips
FOR THE FILLING
1½ c. whole milk
1 packet instant chocolate pudding
1 (8-oz.) container Cool Whip
¼ c. chocolate chips, melted
Instructions
Make crust: Grease a shallow pie dish with cooking spray. In a large bowl using a hand mixer, beat butter and sugar until smooth. Add flour, vanilla and salt and beat until combined. Stir in mini chocolate chips.
Press about two-thirds of the mixture into greased pie dish. Refrigerate while you make the filling and topping.
Make filling: In a large bowl whisk together milk and pudding mix until smooth and thickened, about 5 minutes. Fold in Cool Whip and melted chocolate until evenly combined. Pour filling into crust.
Make topping: Roll extra cookie dough into small balls. Place in a pile on top of filling.
Freeze pie until the filling is solid, about 4 hours.
Slice and serve cold.
Watch the recipe video here:
This pie is like eating cookie dough right out of the package.Full recipe: http://dlsh.it/SO9irkg

Posted by Delish on Wednesday, January 3, 2018