Stuffed Queso Meatloaf
There's a spicy molten center waiting in each slice of this queso-inspired meatloaf.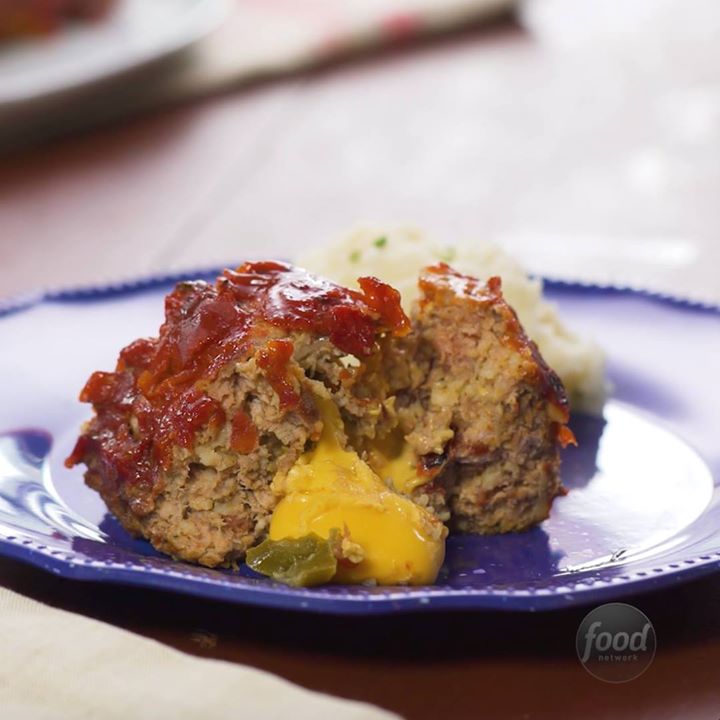 Ingredients
Three 6-inch corn tortillas
1 pound ground beef
1 pound ground pork
2 large eggs, lightly beaten
1 small onion, grated
1 clove garlic, minced
1 teaspoon chili powder
1 teaspoon ground cumin
1 cup canned diced tomatoes with green chiles, drained
Kosher salt and freshly ground black pepper
8 ounces processed cheese, such as Velveeta, cut into 4 rectangular sticks
½ cup pickled jalapeno slices
1 cup ketchup
Instructions
Preheat the oven to 350 degrees F and line a baking sheet with parchment.
Pulse the tortillas in a food processor until they are crumbs and transfer to a large bowl. Add the beef, pork, eggs, onion, garlic, chili powder, cumin, ½ cup of the tomatoes, 1 teaspoon salt and ½ teaspoon pepper. Mix with your hands until well combined.
Using your hands, shape the mixture into a 12-by-3-inch log on the prepared baking sheet. Create a well in the center running the length of the log. Put the cheese in the well and top with the jalapenos. Shape the meatloaf mixture up and over the filling, making sure to seal completely; you should have a 12-by-4-inch loaf.
Whisk together the ketchup and remaining ½ cup diced tomatoes in a medium bowl. Spoon the mixture over the top and sides of the meatloaf.
Bake until the meatloaf reaches an internal temperature of 165 degrees, about 1 hour. Let cool for 10 minutes before transferring to a serving platter and slicing.
Watch the recipe video here:
Recipe of the Day: Stuffed-Queso MeatloafSave this recipe: http://bit.ly/2zFz5j2.

Posted by Food Network on Thursday, January 4, 2018