Buddha Bowls
Healthy, hearty, and hella good.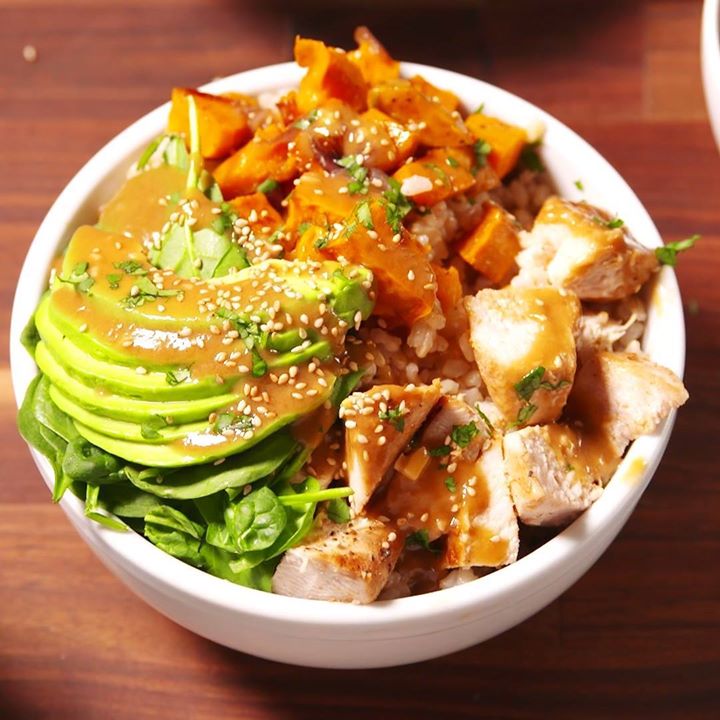 Ingredients
1 large sweet potato, peeled and cut into ½" cubes
1 large red onion, diced
4 tbsp. olive oil, divided
kosher salt
Freshly ground black pepper
2 c. baby spinach
1 lb. Boneless Skinless Chicken Breast
½ tsp. ground ginger
½ tsp. garlic powder
1 small garlic clove, minced
1 tbsp. soy sauce
2 tbsp. smooth peanut butter
1 tbsp. honey
¼ c. lime juice
1 tbsp. sesame oil
1 tbsp. Chopped cilantro
1 tsp. Toasted sesame seeds
1 avocado, thinly sliced
4 c. cooked brown rice
Instructions
Preheat oven to 425 degrees F. Spread sweet potatoes and red onions onto a large baking sheet. Drizzle with about 1 tablespoon of olive oil. Season with salt and pepper and toss to coat. Bake for 20-25 minutes, until the sweet potatoes are tender.
Meanwhile, make chicken. Heat 1 tablespoon of olive oil in a large skillet. Season chicken all over with salt, pepper, garlic powder and ground ginger. Add chicken to skillet and cook for 6-8 minutes pre side, or until cooked through. Let rest for 10 minutes, then cut each breast into 1" pieces.
Make dressing. Whisk together garlic, soy sauce, peanut butter, honey and lime juice until evenly combined. Whisk in sesame oil and 1 tablespoon of olive oil until smooth.
Divide rice between bowls. Top with sweet potatoes, chicken, avocado and baby spinach. Sprinkle with cilantro and sesame seeds and drizzle dressing on top.
Watch the recipe video here:
If you're trying to eat healthy, you need to know about Buddha Bowls.Full recipe: http://dlsh.it/sPY3Fxe

Posted by Delish on Wednesday, January 3, 2018