Garlic Parm Chicken & Potatoes
A creamy one pot dish that we are absolutely here for.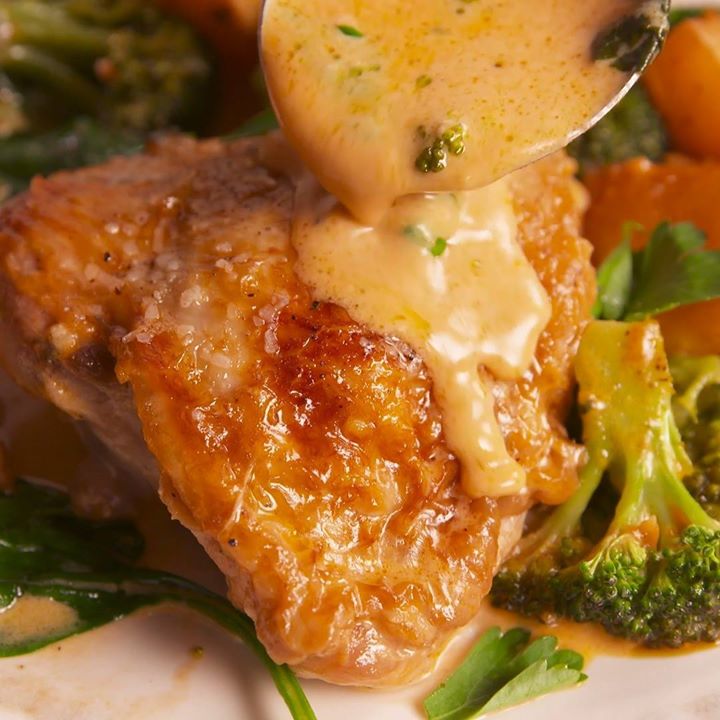 Ingredients
4 skin-on, bone-in chicken thighs
kosher salt
Freshly ground black pepper
1 tbsp. olive oil
½ lb. baby red potatoes, quartered
4 cloves garlic, minced
2 tbsp. tomato paste
1 c. chicken stock
1 head broccoli florets
1 c. half and half
1 c. grated Parmesan
1 c. spinach
Chopped parsley, for garnish
Instructions
Season chicken thighs all over with salt and pepper. In a large skillet over medium heat, heat olive oil, then add the chicken thighs, skin side down. Cook until golden and crispy, about 10 minutes. Flip chicken cook until golden, another 10 minutes.
Remove chicken but leave skillet on stove. Add potatoes and season with salt and pepper. Leave untouched for about 4 minutes, until one side is crispy.
Add the garlic and tomato paste and stir until fragrant, 2 minutes. Stir in chicken broth and broccoli, season with salt and pepper, and simmer for 5 minutes. Stir in half and half, Parmesan, and spinach, add chicken, skin side, up, and simmer until the sauce is nicely reduced and the potatoes are done, about 15 minutes.
Garnish with parsley and serve.
Watch the recipe video here: