Peach Rose Jelly
Feeling extra peachy? Try this peach mousse topped with a lovely rose blossom-shaped peach jelly.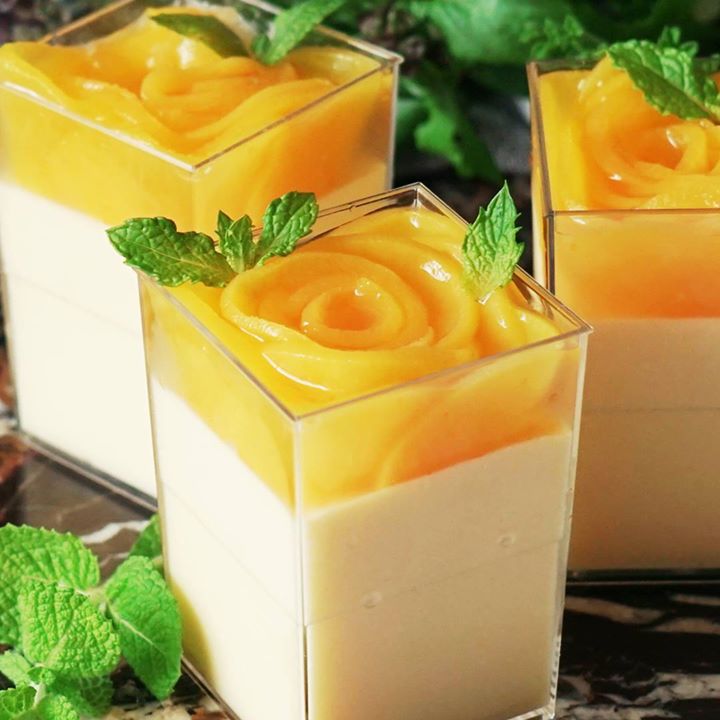 Ingredients
Peach mousse:
3½ tablespoons peach syrup
½ cup milk
¼ cup heavy cream
½ tablespoon gelatin, soaked in 2 tablespoons water
Peach jelly:
2¾ tablespoons peach syrup
1½ tablespoons water
¼ tablespoon gelatin, soaked in 1 tablespoon water
Instructions
Dissolve each gelatin in the microwave before mixing.
Separate canned peaches from their syrup, and thinly slice two of the peaches.
In a blender, add the remaining peaches, 3½ tablespoons of the syrup, milk and heavy cream. Blend until smooth. Add the dissolved gelatin and blend again.
Pour into a container and chill in the refrigerator until mixture sets.
Once set, arrange the sliced peaches in the shape of a rose blossom, starting from the outside.
In a small bowl, add peach jelly ingredients and mix to combine. Pour on top of the peach mousse.
Chill in the refrigerator until set. Enjoy!
Watch the recipe video here:
Feeling a lil peachy? Have a shot of something sweet!Full Recipe: taste.md/2nDt3eF?: Tastemade Japan

Posted by Tastemade on Friday, February 2, 2018