Chocolate chip cookie Trifle
Trifle - the very word brings to mind those quintessential British summers. Strawberries on the lawn, the gentle drone of a cricket game in the background, the gentle buzzing of bees and their fumbles with the honeysuckle. Like many things, trifle has changed from its traditional origins. It's moved to the big city and got itself a new haircut and fancy shoes. Our version is chocolatey, cakey and covered with cookies and lots of choccy sauce. Traditional, this guy ain't - delicious, he certainly is.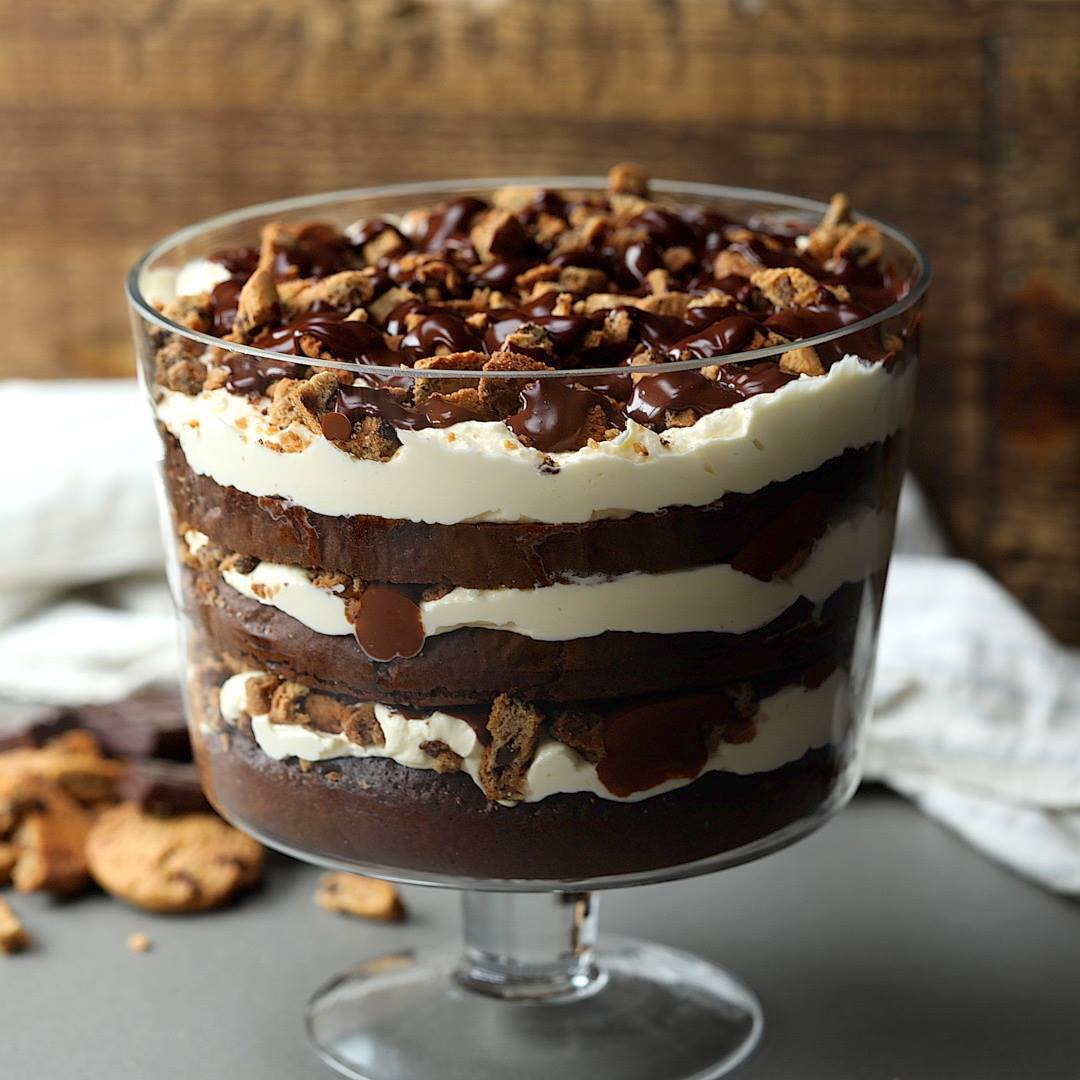 Ingredients
Chocolate Sauce
6 tbsp sugar
3 tbsp cornstarch
1 tbsp cocoa powder
¼ tsp salt
500 ml double cream
1 tsp vanilla
1 tsp instant coffee
75g dark chocolate, finely chopped
Whipped Cream
500ml double cream
3 tbsp icing sugar
1 tbsp vanilla essence
Trifle
1 shop bought chocolate cake, cut into three sections
2 packs cookies, roughly chopped
Instructions
In a pan whisk together sugar, cornstarch, cocoa powder, salt, instant coffee. Place on the heat and add double cream - whisk thoroughly to make a smooth, thick sauce. Add more cream to get your desired consistency.
Whisk the cream, icing sugar and vanilla together until you have stiff peaks - be very careful as it's incredibly easy to over whip at this stage. If you do by mistake you can fold in some double cream to bring it back from the edge.
Using a sharp knife chop up the cookies.
To assemble the trifle place the first slice of chocolate cake on the bottom of the trifle bowl. Top with whipped cream, a good handful of chopped cookies, and lashing of the chocolate sauce. Repeat three times, finishing with the chocolate sauce.
Yum yum!
Watch the recipe video here:
Chocolate chip cookie Trifle

Posted by Twisted on Tuesday, June 26, 2018