Leg Lamp Cookies
These leg lamp cookies are a major homage to an unforgettable Christmas Story. You can print out a copy of the leg lamp stencil here. (Delish fan Matt Sargent also designed this 3-D model, based on our video, so you can create your own cookie cutter—if you have a 3-D printer. Check it out.)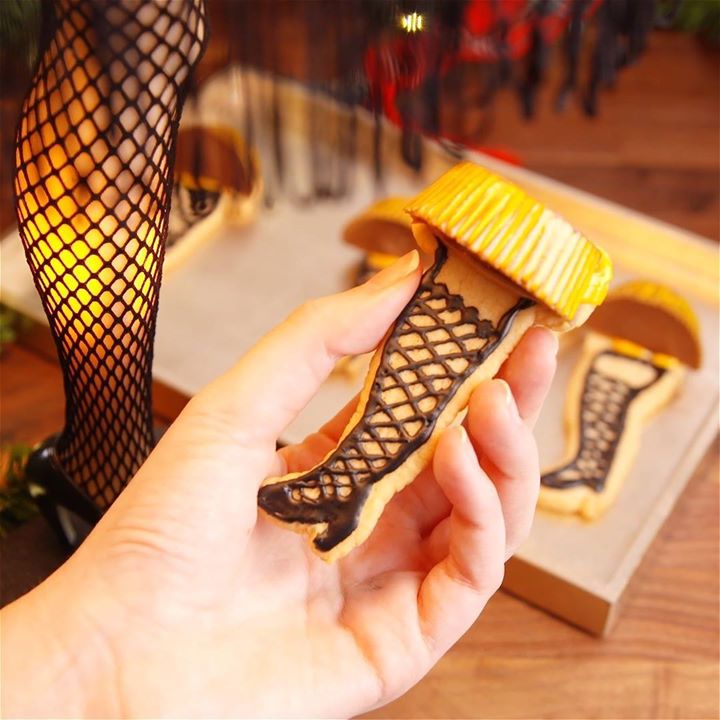 Ingredients
1 tube sugar cookie dough
½ c. flour
1 container black cookie icing
6 packages Reese's Big Cups
1 jar peanut butter (16 oz or less)
1 jar peanut butter (16 oz or less)
Instructions
Preheat oven to 350 degrees F. In a large mixing bowl, combine cookie dough and flour. Roll out to ¼" thick, then use a paring knife to draw the shape of a heeled leg for each cookie (or trace them, using the stencil we created in the PDF above). Bake for 10-11 minutes, or until cookies are lightly golden around the edges. Set aside to cool.
Use the black cookie icing to draw a heel on the leg lamp, as well as a crosshatch design to mimic the fishnet stockings. Place in the refrigerator to harden, about 10 minutes.
Remove Reese's cups from wrappers, slice each in half length-wise. Dab a little peanut butter on the cut side of each Reese's cup, then gently press it against the top of the sugar cookie.
Coat the Reese's cup with yellow icing, using a small silicone spatula or pastry brush to spread it, filling in the crevices on the peanut butter cup, so it looks like the yellow lampshade. Place in the refrigerator to cool, about 10 minutes.
Watch the recipe video here:
Leg Lamp Cookies will get A Christmas Story fans SO EXCITED.Full recipe: http://dlsh.it/iydzuzg

Posted by Delish on Saturday, November 25, 2017