BANANA ZUCCHINI CAKE WITH CREAM CHEESE FROSTING
Fruity, moist and delicious, this banana and zucchini cake is crazy delicious!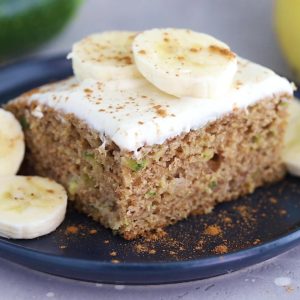 Ingredients
¾ cup all-purpose flour
¾ cup whole wheat flour
2 teaspoons baking soda
1 teaspoon salt
1 teaspoon ground cinnamon
¼ teaspoon nutmeg
¼ teaspoon ground ginger
⅔ cup honey
2 tablespoons vegetable oil
2 large eggs
1 teaspoon vanilla extract
2 cups mashed ripe bananas, from 5 small
8 ounce zucchini, grated and squeezed well
8 ounce can crushed pineapple in juice, drained well
FOR THE FROSTING:
8 oz ⅓-less fat Philadelphia Cream Cheese
¼ cup powdered sugar
2 teaspoons vanilla extract
Instructions
To prepare frosting, beat together cream cheese, powdered sugar and vanilla until smooth. Refrigerate until ready to use.
Preheat oven to 350°F. Spray bottom of 13x9x2-inch nonstick metal pan with cooking spray.
In a large bowl, combine flour, baking soda, salt, and spices; stir well with a whisk.
In a medium bowl, combine honey, oil, eggs, and vanilla; stir well. Add zucchini, banana and pineapple; mix well.
Fold wet ingredients with the dry ingredients and mix well with a spatula until combined.
Spoon batter into the sheet pan.
Bake at 350F for about 45 minutes, or until a wooden toothpick inserted in the center comes out clean.
Cool completely on a wire rack.
Spread frosting over the cake once cooled and cut into 16 pieces.
Watch the recipe video here:
Fruity, moist and delicious, this banana and zucchini cake is crazy delicious! 6 Freestyle Points • 172 Calorieshttps://www.skinnytaste.com/banana-zucchini-cake-with-cream-cheese-frosting/

Posted by Skinnytaste on Sunday, August 4, 2019