Chocolate Dump(ed) Cake
Packed with Oreos and marshmallows, this cake proves being dumped can be pretty sweet.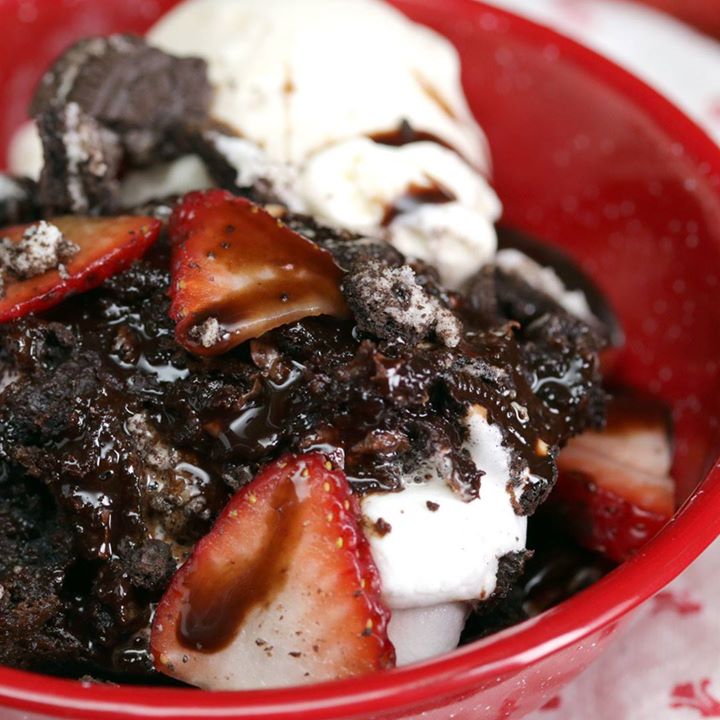 Ingredients
1 (3.4 ounces) package chocolate flavor instant pudding mix
2½ cups cold whole milk, divided
1 box store-bought chocolate cake mix
1½ cups crushed Oreo cookies, divided
2 cups miniature marshmallows, divided
1 cup semisweet chocolate chips, divided
For garnish:
Marshmallows, chocolate syrup, crushed Oreos, fresh strawberry slices and vanilla ice cream
Instructions
Preheat oven to 350°F, and prepare a 13x9-inch glass baking pan with nonstick cooking spray.
In large bowl, whisk together the dry pudding mix and 2½ cups of milk for about 2 minutes until smooth and slightly thickened.
Stir in cake mix, followed by the remaining milk and whisk until incorporated. Fold in 1 cup crushed Oreos, 1 cup mini marshmallows and ½ cup chocolate chips. Stir until combined.
Spread batter evenly in bottom of the prepared pan.
Scatter chocolate chips evenly on the top of the batter and bake 30 to 35 minutes or until toothpick inserted in center of cake comes out mostly clean.
Immediately sprinkle with remaining mini marshmallows and allow to cool.
Before serving, garnish with chocolate syrup, remaining crushed Oreos and freshly sliced strawberries, and serve with a scoop of vanilla ice cream.
Watch the recipe video here:
Valentine's Day Dump(ed) Cake Full Recipe: https://taste.md/2ltJviK

Posted by Tastemade on Saturday, February 10, 2018