Apple Caramel Cheesecake Swirl Buns
Apple Caramel Cheesecake Swirl Buns recipe.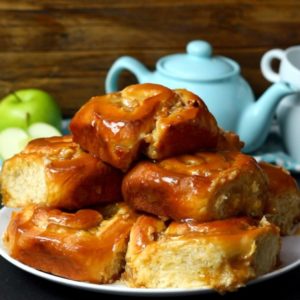 Ingredients
240ml milk, warmed
135g granulated sugar
2 tablespoons active dry yeast
115g unsalted butter, softened to room temperature and cut into 4 pieces
2 large eggs
½ teaspoon salt
560g all-purpose flour, plus more for dusting/rolling
1 tbsp butter
6 Granny Smith apples
100g sugar
100ml water
240g Cream Cheese softened
100g butter, softened
100g granulated sugar
200g brown sugar
4 tbsp butter
100ml single cream
Instructions
Preheat the oven to 180°C.
Whisk together the milk, sugar and yeast and allow to sit for a few minutes for the yeast to activate.
Whisk in the butter and eggs, then fold through the flour and a little salt. Knead, briefly, until the dough comes together.
Cover and leave to rise somewhere warm.
Meanwhile, heat the butter, apples, water and sugar in a frying pan and cook until soft and sticky - roughly 15 minutes.
Whisk together cream cheese, butter and sugar. Roll out the dough to a rectangle and spread over the whole of the rectangle. Sprinkle the apple pieces on top.
Roll up the rectangle into a long sausage and cut into 12. Place snugly in a greased baking tray and allow to rise, then bake for 30 mins until cooked through.
Meanwhile, heat the sugar, butter and cream all together in a saucepan. Allow to bubble up to make a caramel.
Pour over the steamy buns.
Lovely!
Watch the recipe video here: