Crispy Rice Cereal Chocolate Cheesecake
You won't believe how deliciious this crispy rice cereal chocolate cheesecake is! ???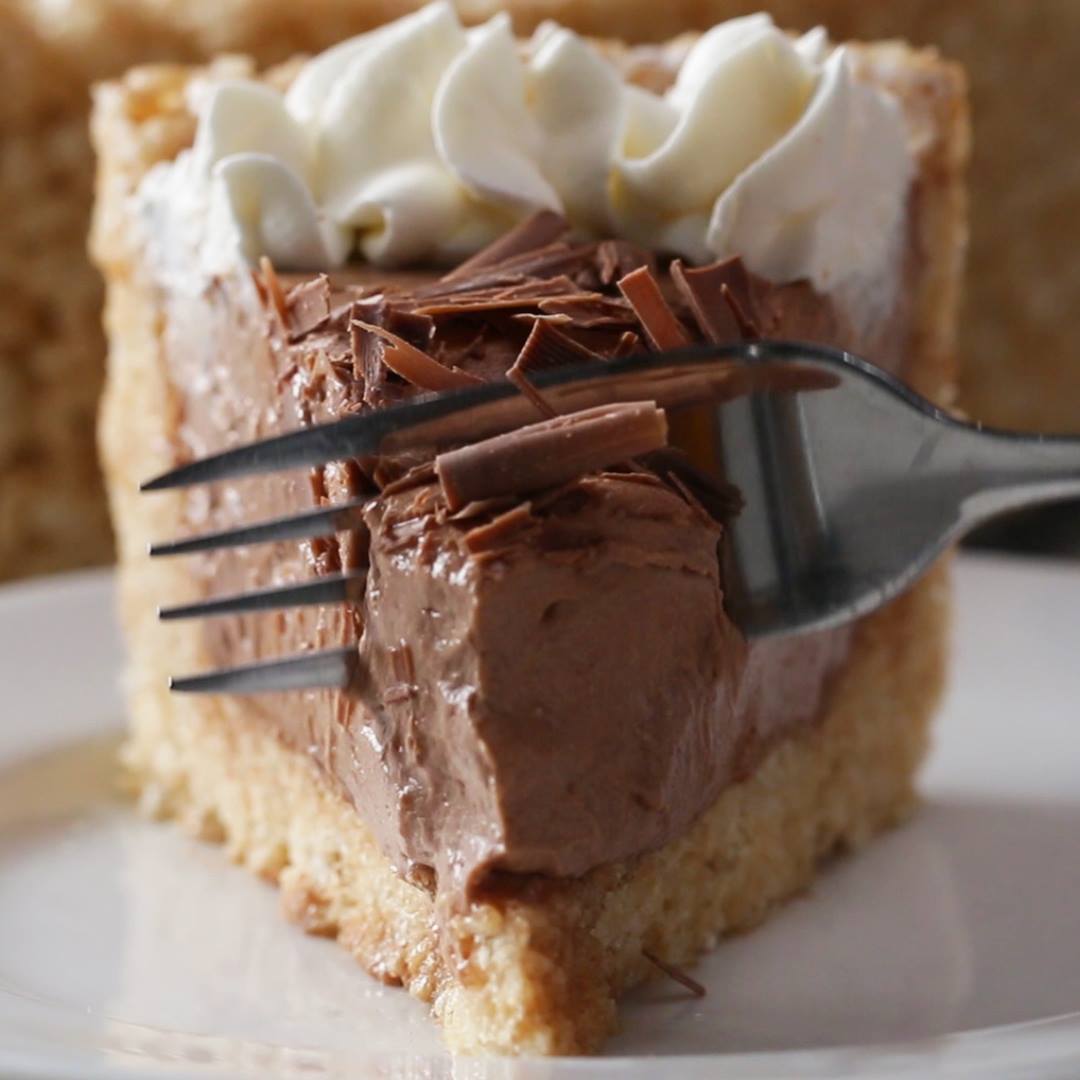 Ingredients
¼ cup (60 g) unsalted butter, ½ stick
10 oz (285 g) mini marshmallows
6 cups (180 g) crispy rice cereal
8 oz (225 g) semisweet chocolate
¼ cup (60 mL) heavy cream
16 oz (455 g) cream cheese, softened
½ cup (100 g) sugar
1 teaspoon vanilla
2 ½ cups (150 g) whipped cream, divided
chocolate bar, for shaving
Instructions
In a large saucepan over medium heat, melt the butter.
Add the marshmallows and stir until melted. Add the crispy rice cereal and stir to coat.
While the crispy rice cereal mix is still warm, transfer them to a greased 10-inch (25 cm) springform pan.
Using a greased measuring cup, press down into the cereal to form to the pan. Press the edges against the springform pan to create walls. Set aside.
Place the chocolate in a small microwave-safe bowl and pour the heavy cream on top. Microwave in 30-second intervals, stirring until melted, about 1 minute.
In a large bowl, mix the cream cheese, sugar, and vanilla until smooth.
Pour in the melted chocolate and stir to incorporate.
Add 1½ cups (90 g) of whipped cream to the chocolate mixture and fold with a spatula until combined.
Pour the cheesecake mixture into the crispy rice base and smooth the top with a spatula.
Refrigerate for 3-4 hours or overnight, until the cheesecake is set. Release the springform.
Put the remaining cup of whipped cream in a piping bag fitted with a star tip and decorate the top of the cheesecake.
Use a vegetable peeler to shave the chocolate into the middle of the cheesecake.
Slice and serve.
Enjoy!
Watch the recipe video here: