These Easter Brownie Bites Have a Cream Egg Center You Don't Need to Hunt For!
The time has come and Cadbury Creme eggs will be here only for a short while. So buy as many as possible and try to think of all the ways you can bake with them! This recipe is a sure winner to get you going! A simple brownie is a perfect canvas to add your favorite toppings to, but why not try stuffing them!? Chocolatey and chewy one bite brownies + addictive Cadbury Creme eggs, equals the treat that will have you counting the days until next Easter!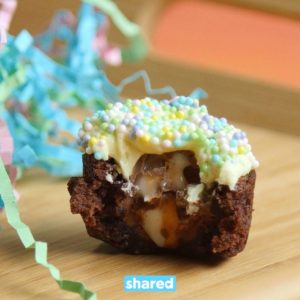 Ingredients
For Mini Brownie Bites
1 box brownie mix
2 Cadbury Creme Mini Eggs 12-Pack
For Vanilla Buttercream Frosting
1 cup butter, softened
4 cups powdered sugar, sifted
¼ teaspoon salt
1 tablespoon vanilla
2 tablespoons milk
4 drops of yellow food coloring
sprinkles
Instructions
For Mini Brownie Bites
Mix the box brownie mix according to the package directions. Spray a mini muffin tin with nonstick spray. Fill each tin with 1 teaspoon brownie batter. Bake at 350F degrees for 11 minutes.
Remove from the oven and let cool 2 minutes. Press an unwrapped creme egg into the center of each brownie bite.
Let cool another 2 minutes. Place on a wire rack and let cool completely.
For Vanilla Buttercream Frosting
Mix the softened butter on medium speed with an electric or stand mixer. Beat for about 3 minutes until smooth and creamy.
Add powdered sugar, milk, vanilla extract, and salt. Increase to high-speed and beat for 3 minutes.
Add 4 drops of yellow food coloring and stir until fully colored.
Frost cooled brownie bites and sprinkle sugar sprinkles on top.
Watch the recipe video here: