Vegan Apple Pie
Vegan Apple Pie recipe.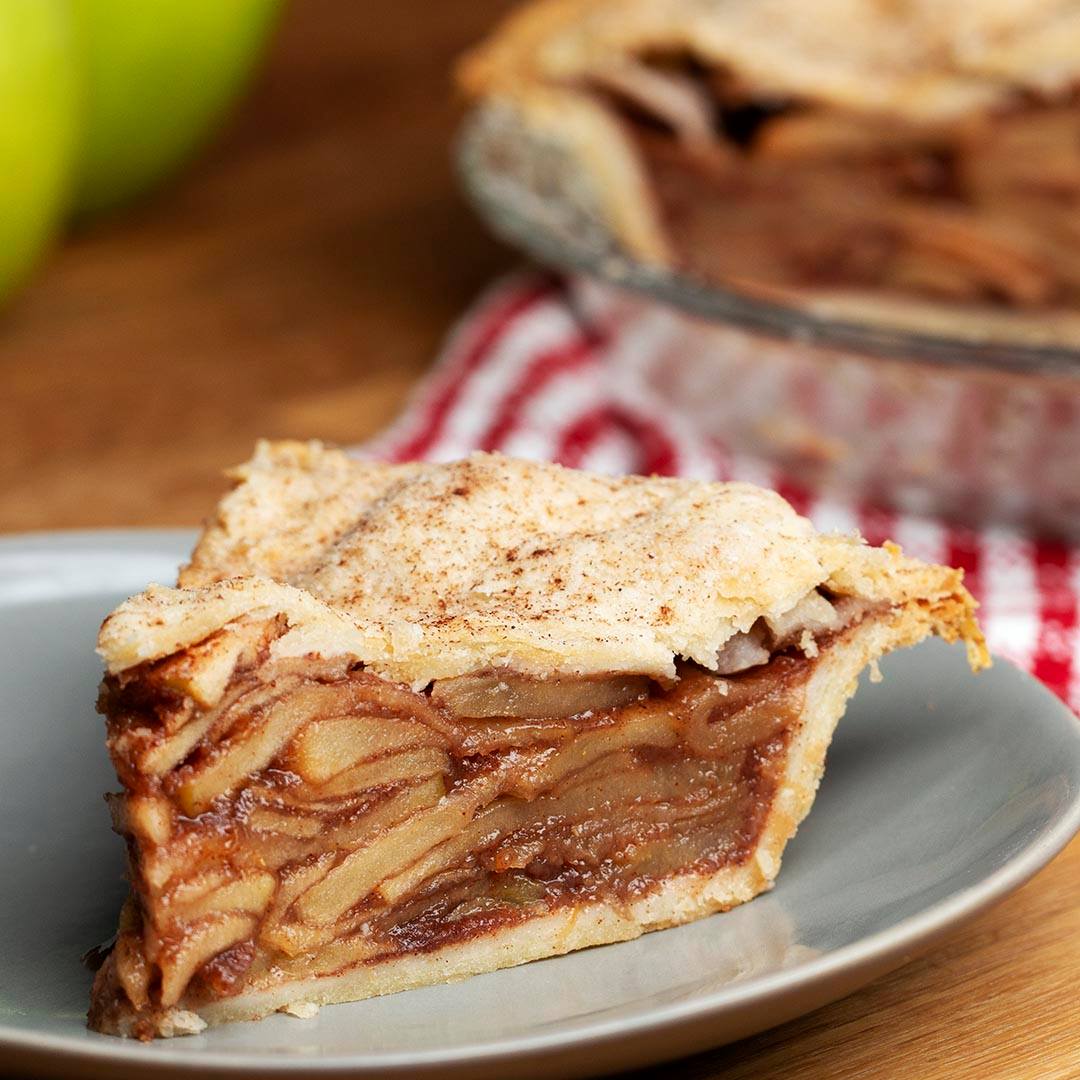 Ingredients
CRUST
2 ½ cups all-purpose flour, plus more for dusting (310 g)
1 tablespoon organic sugar
1 teaspoon kosher salt
1 cup vegan butter, cubed and chilled (225 g)
6 tablespoons ice water
FILLING
7 granny smith apples
2 cups organic sugar, plus 1 teaspoon, divided (400 g)
1 lemon, zested
5 tablespoons cornstarch
½ lemon, juiced
1 tablespoon coconut oil, melted, plus 1 teaspoon, divided
½ teaspoon salt
4 teaspoons cinnamon, divided
Instructions
Make the crust:
In a large bowl, combine the flour, sugar, and salt.
Add the cubed butter, a bit at a time, and use a fork to work it into the flour with a fork until it breaks down to dime-sized pieces.
Gradually add the ice water and mix just until the dough can be pressed together.
Divide the dough in half and shape into discs. Wrap in plastic wrap and chill in the fridge for 1 hour.
Preheat the oven to 350˚F (180˚C).
Make the filling:
Peel and core apples, then thinly slice. Transfer to a large bowl and add 2 cups of sugar, the lemon zest, cornstarch, lemon juice, 1 teaspoon melted coconut oil, salt, and 3 teaspoons cinnamon. Toss until the apples are well-coated. Set aside.
On a lightly floured surface, roll out both of the discs of dough to about 1 inch (2 cm) thick. Transfer one round to a greased 8-inch (20-cm) pie dish and gently press against the bottom and sides. Trim the excess dough around the edges, then prick the bottom of the pie crust all over with a fork
Pour the apples into the bottom crust and cover with the top crust. Trim the excess dough around the edges, then crimp the top and bottom crusts together with a fork. Brush the top of the crust with the remaining tablespoon of melted coconut oil and sprinkle with the remaining teaspoon of sugar and cinnamon. Cut 4 vents in the top crust
Bake for 1 hour, until crust is starting to turn golden brown.
Let cool for 10 minutes, then slice and serve.
Enjoy!
Watch the recipe video here: