Lemon Meringue Bars
Lemon Meringue Bars recipe.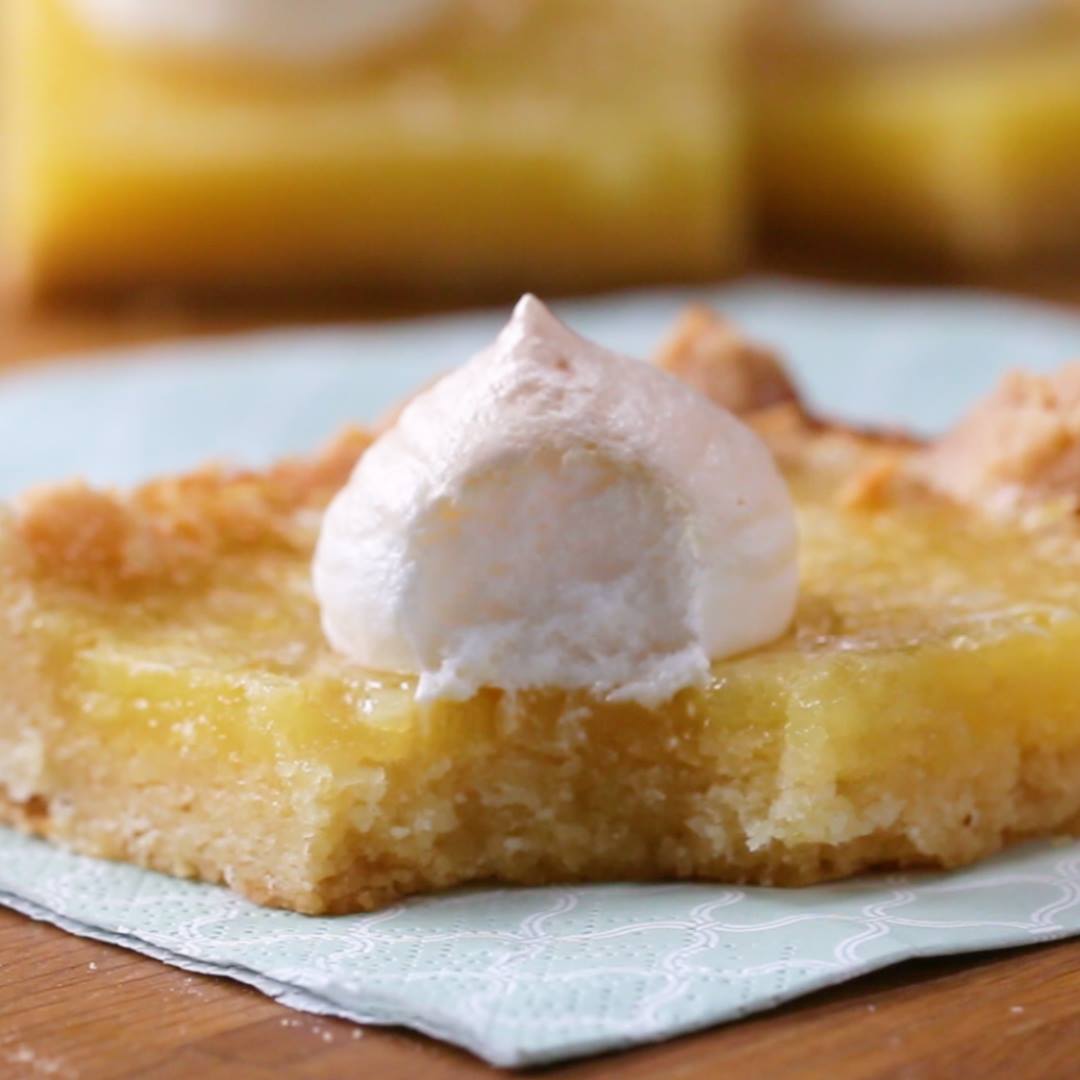 Ingredients
CRUST
1 ½ cups all-purpose flour (185 g)
½ cup powdered sugar (60 g)
½ teaspoon salt
¾ cup unsalted butter, 1½ sticks, cubed, room temperature (165 g)
LEMON FILLING
3 large eggs
1 egg yolk, reserve white for meringue
1 cup granulated sugar (200 g)
½ cup lemon juice (120 mL)
1 tablespoon lemon zest
¼ cup all-purpose flour (30 g)
MERINGUE
1 egg white
1 pinch salt
⅓ cup granulated sugar (65 g)
Instructions
Preheat oven to 325˚F (170˚C). Grease and line a 9-inch (23 cm) square baking dish with parchment paper and place on a baking sheet.
Make the crust: combine the flour, powdered sugar, salt, and butter in a medium bowl, and use your hands to mix until a crumbly dough forms.
Transfer the dough to the prepared pan, and use your hands to press it against the bottom and about 1 inch (2 cm) up the sides. Poke the bottom all over with a fork.
Bake for 20 minutes, until light golden brown.
While the crust is baking, make the lemon filling: In a large bowl, whisk together the eggs and egg yolk. Add the granulated sugar, lemon juice, zest, and a pinch of salt, and whisk to combine. Whisk in the flour until just combined.
When the crust is done baking, remove it from the oven. Pour the lemon filling over the crust and carefully return it to the oven for 25 minutes, until the filling no longer jiggles and the center is mostly set.
While the filling bakes, make the meringue: In a clean, dry medium bowl, use an electric hand mixer to beat the egg white until stiff peaks form. Add about half of the sugar, whip for 30 seconds, then add the rest of the sugar and whip until combined. Transfer the meringue to a pastry bag fitted with a large tip or zip-top bag with a corner snipped off.
Pipe 9 evenly-spaced dollops of meringue on top of the lemon bars.
Return to the oven for 10-12 minutes, until the meringues are lightly browned.
Let cool completely, then refrigerate for 1-2 hours.
Slice into 9 bars. Serve chilled or at room temperature.
Enjoy!
Watch the recipe video here:
When life hands you lemons, make this ?Full Recipe: https://tasty.co/recipe/lemon-meringue-bars

Posted by Tasty on Friday, September 14, 2018