Nutella Cheesecake Dip
If any of you love Nutella just as much as I do, you will LOVE This dip! It's so fluffy and delicious! Have it with any tasty treat; you can go for a salty pretzel, or a juicy strawberry to enjoy alongside this goodness! In less than 15 minutes you will be in dessert heaven!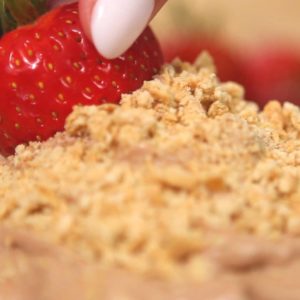 Ingredients
1 CUP Heavy cream
1 8oz Package cream cheese, at room temperature
3 Tbsp Confectioners' sugar
½ CUP Nutella spread
Instructions
In the bowl of an electric mixer fitted with the whisk attachment, beat heavy cream on medium-high until stiff peaks form, about 2-3 minutes; set aside.
In a separate bowl of an electric mixer fitting with the paddle attachment, beat cream cheese and confectioners' sugar on medium-high until light and fluffy, about 2-3 minutes.
Beat in Nutella until well combined. Gently fold in whipped cream.
Serve immediately.
Enjoy!
Watch the recipe video here: