Baileys Chocolate Coffee Cake
We know what were making for breakfast on St. Patrick's Day.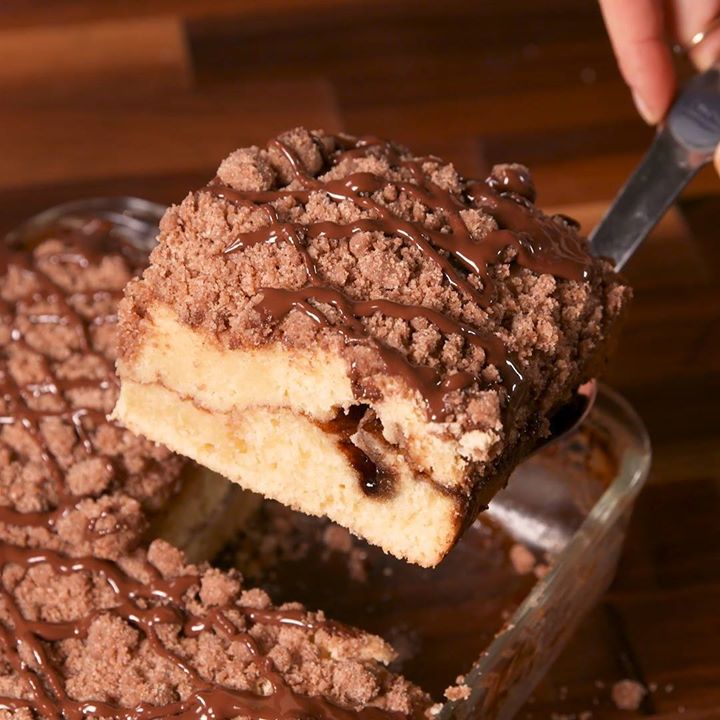 Ingredients
Cooking spray, for pan
FOR THE FILLING
1 c. brown sugar
1 tbsp. cocoa powder
1 tsp. instant espresso powder
FOR THE CAKE
¾ c. (1½ sticks) butter, softened to room temperature
1½ c. sugar
⅓ c. brown sugar
2 tsp. baking powder
3 large eggs
⅔ c. sour cream
1 c. whole milk
¼ c. Baileys
3 c. all-purpose flour
Instructions
Preheat oven to 350° and grease a 9"x13" pan with cooking spray. Make filling: In a medium bowl, combine brown sugar, cocoa powder and instant espresso powder. Whisk to combine.
Make cake batter: In a large bowl, combine butter, sugars and baking powder. Using a hand mixer, beat until smooth. Next, beat in eggs one at a time.
Add sour cream, whole milk, and Baileys and mix again, until just combined. Gradually beat in flour.
Pour half the batter into prepared baking dish, sprinkle with filling in an even layer, and top with the rest of the batter.
Make topping: In a medium bowl, combine sugar, flour, cocoa powder, espresso powder and a pinch of salt. Whisk to combine. Add melted butter and stir until well combined.
Scatter topping over the top of the coffee cake batter in an even layer. Bake for 45 to 50 minutes, or until a toothpick inserted into the center comes out clean.
Drizzle with melted chocolate and let cool for 10 to 15 minutes. Slice and serve.
Watch the recipe video here: