INSTANT POT CHEESECAKE
Instant Pot Cheesecake couldn't be easier or more delicious. Serve it up with pie filling, fresh fruit, or chocolate ganache for the perfect dessert.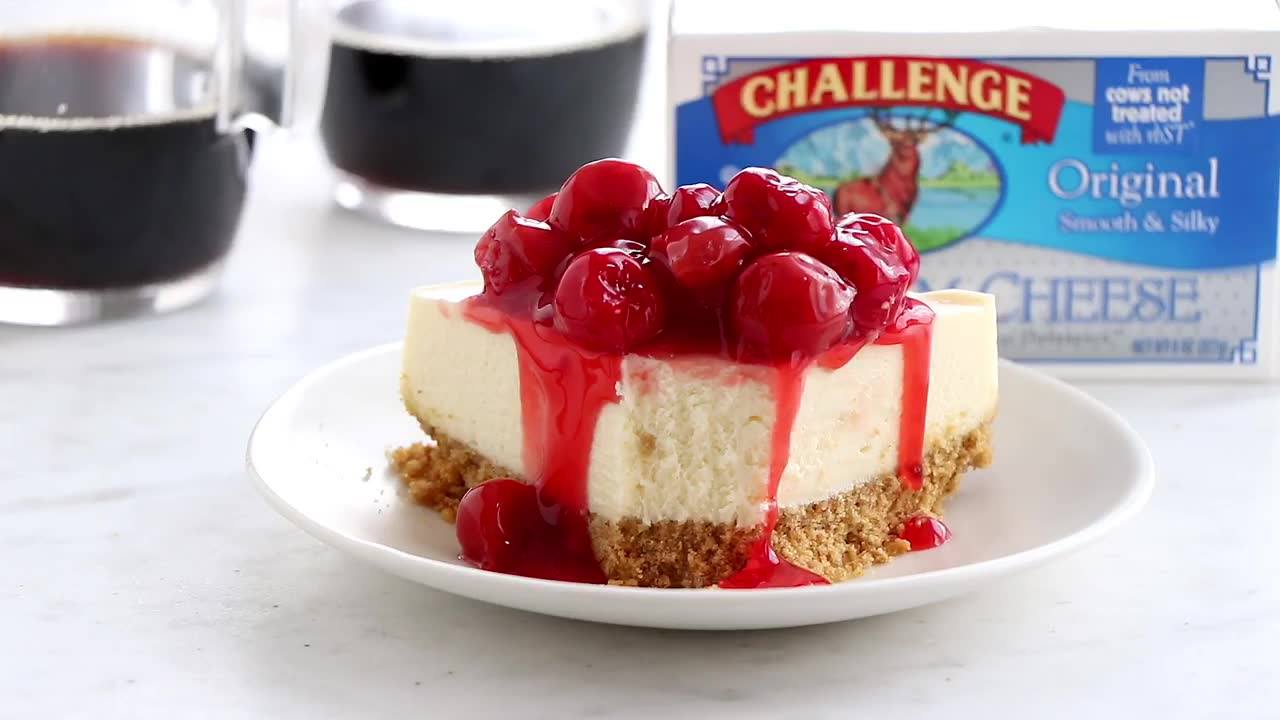 Ingredients
1 cup graham cracker crumbs
2 tablespoons granulated sugar
3 tablespoons Challenge Dairy Unsalted Butter, melted
16 ounces Challenge Dairy Cream Cheese, room temperature
½ cup granulated sugar
2 large eggs, room temperature
1 tablespoon all-purpose flour
¼ cup heavy cream
2 teaspoons pure vanilla extract
cherry pie filling, optional
Instructions
Tightly wrap the bottom of 7-inch springform pan in foil and spray the inside of the pan with non-stick cooking spray.
In a small mixing bowl, stir together the graham cracker crumbs, sugar, and melted butter. Press the crumbs into the bottom of the prepared pan.
Place pan in freezer for 10-15 minutes.
In the bowl of your stand mixer fitted with the paddle attachment, or in a large bowl with an electric mixer, beat the cream cheese until smooth. Add sugar and mix until combined. Add eggs, one at a time, fully incorporating each before adding the next. Making sure to scrape down the bowl in between each egg. Add in the flour, heavy cream, and vanilla and mix until smooth. Pour batter into prepared pan.
Cover the top of the pan with a piece of foil.
Pour 1½ cups of water into the Instant Pot and place the trivet in the bottom of the pot.
Create a "foil sling" by folding a 20-inch long piece of foil in half lengthwise two times. This "sling" will allow you place and remove the springform pan with ease.
Place the cheesecake pan in the center of the sling and carefully lower the pan into the Instant Pot. Fold down the excess foil from the sling to ensure the pot closes properly.
Lock the lid into place and make sure the vent is closed "sealing". Press the "Manual" button and cook on high pressure for 35 minutes.
When the Instant Pot beeps, hit the "Keep Warm/Cancel" button to turn off the pressure cooker. Allow the pressure to release naturally for 10 minutes and then do a quick release to release any pressure remaining in the pot.
Carefully unfold the foil sling and remove the cheesecake from the pot to a cooling rack using the foil sling "handles".
Uncover the cheesecake and allow it to cool to room temperature.
Once the cheesecake has cooled, refrigerate it for at least 8 hours, or overnight.
Before serving, top with pie filling and whipped cream if desired.
Watch the recipe video here: