Chicken Fajita Wrap Bombs
CHICKEN FAJITA WRAP BOMBS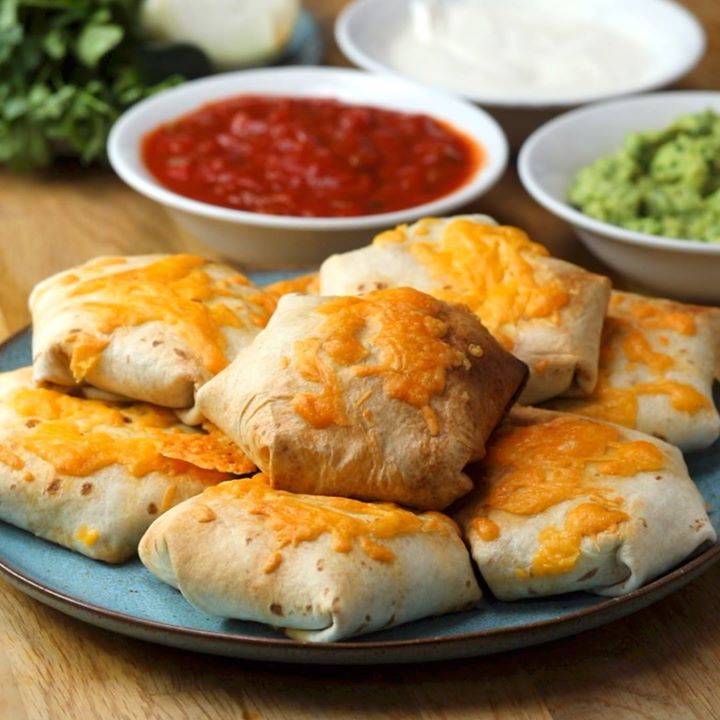 Ingredients
3 chicken breasts, sliced
8 large flour tortillas
1½ cups cheddar, plus a little more for topping
2 tbsp fajita seasoning
1 tsp salt
2 tbsp lime juice
1 jalapeno, diced
2 cloves garlic, finely chopped
3 peppers, sliced
2 onions, sliced
3 tbsp oil
½ cup beer
sour cream, salsa, to serve
Instructions
To your sliced chicken, add your lime juice, 1 tsp salt, 1 tbsp oil, fajita seasoning and diced jalapeno. Mix well, cover and leave to marinade for 1 hour (at room temperature).
Heat 3 tbsp oil over medium-high heat. Add your peppers and onions and 1 tsp salt. Fry for 15 minutes or so, stirring frequently, until nicely caramelised, translucent and sweet. Add your garlic and fry briefly. Add your chicken and any marinade/juices. Fry until the meat has gathered a little colour. Deglaze with the beer and reduce until sticky (if necessary).
Load into wraps with a good tbsp cheddar. You should have enough for 8 wraps. Wrap up with 6 or so folds. Place, folded side down, on a baking tray and sprinkle over some remaining cheese.
Bake for 20 minutes at 180°C.
Destroy!
Watch the recipe video here:
Chicken Fajita Wrap Bombs

Posted by Twisted on Monday, March 19, 2018