Spaghetti Cacciatore
What We're Loving: Spaghetti Cacciatore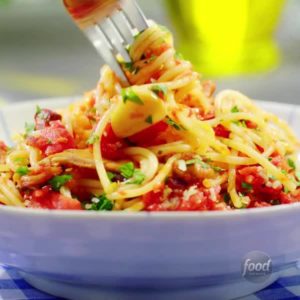 Ingredients
Kosher salt
10 ounces spaghetti
3 slices thick-cut bacon, chopped
8 ounces oyster mushrooms, sliced
½ red onion, chopped
3 cloves garlic, thinly sliced
½ teaspoon red pepper flakes
1 28-ounce can whole peeled San Marzano tomatoes, crushed by hand
1 teaspoon dried oregano
¼ cup grated parmesan cheese, plus more for topping
2 tablespoons extra-virgin olive oil
Chopped fresh parsley, for topping
Instructions
Bring a large pot of salted water to a boil. Add the spaghetti and cook as the label directs. Reserve ½ cup cooking water, then drain.
Meanwhile, cook the bacon in a large pot or Dutch oven over medium-high heat until browned, about 7 minutes. Pour off all but 2 tablespoons drippings from the pot.
Add the mushrooms and red onion to the pot with the bacon and season with salt. Cook, stirring occasionally, until the vegetables are softened, about 4 minutes. Add the garlic and red pepper flakes and cook until the garlic is golden, about 1 minute. Add the tomatoes, oregano and ½ teaspoon salt. Cook, stirring occasionally, until the sauce is slightly thickened, about 6 minutes.
Add the spaghetti and reserved cooking water to the pot; cook, tossing, until coated, about 2 minutes. Add the parmesan, season with salt and toss. Drizzle each serving of pasta with the olive oil and top with parsley and more parmesan.
Watch the recipe video here: