Oreo Churros
Two Oreo-infused circular churros sandwich a heaping serving of Oreo cream filling. Time to break out the milk.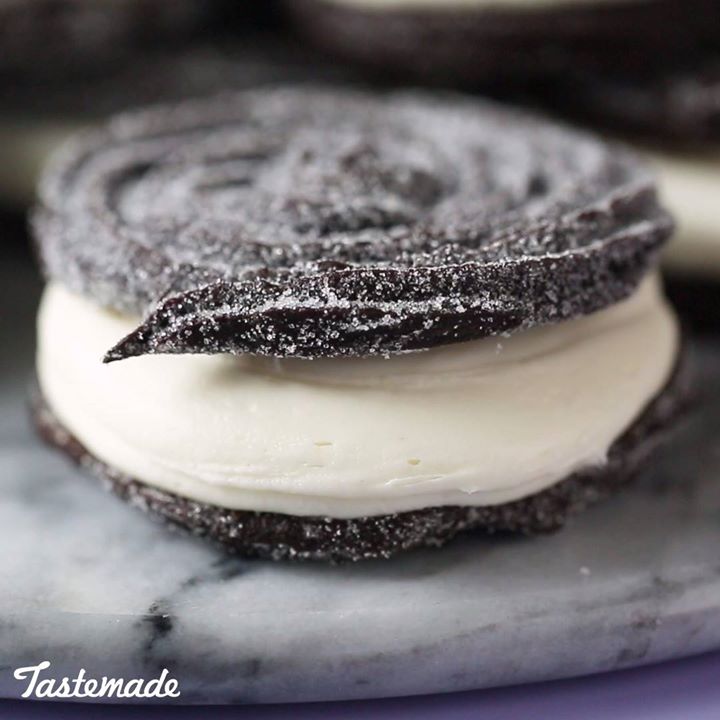 Ingredients
For the churros:
10 Oreos, cookie parts only
1 cup all-purpose flour
¼ cup extra dark cocoa powder
1 teaspoon salt
1 cup water
½ cup unsalted butter
2 large eggs
½ cup sugar, for dusting
For the filling:
½ cup unsalted butter, softened
1 teaspoon vanilla extract
½ cup vegetable shortening
3 cups powdered sugar, sifted
Cream filling from 10 Oreos
Instructions
Preheat oven to 425 degrees, and line 2 baking sheets with silicone baking mats.
Make the churros: Separate Oreo insides from the cookies and place into 2 separate bowls.
In the bowl of a food processor, grind Oreo cookies until the texture resembles sand. Set aside.
In a small bowl, sift together flour, cocoa, salt and Oreo crumbs.
In a small saucepan, combine water and butter. Bring to a simmer until butter is melted. Turn off heat and add flour mixture, mixing until combined. Stir in eggs. Transfer to a pastry bag with a star tip.
On prepared baking sheets, pipe spiral cookies about 2½ inches in diameter (approximately 12 cookies). Bake for 20 to 25 minutes until slightly crispy. Once slightly cooled, toss churros in sugar and set aside.
Make the filling: In a stand mixer fitted with the paddle attachment, add butter, vanilla and shortening, and mix on high speed until fluffy and light. Gradually add powdered sugar on low speed, then add the cream from Oreos. Transfer to a pastry bag fitted with a round tip.
Assemble the churros: Turn half of the churro cookies over, and pipe cream filling onto them. Top with the other half of the churro cookies and serve!
Watch the recipe video here:
Churro + Oreo = foodgasm. It's simple math.Full Recipe: taste.md/2y64OfD

Posted by Tastemade on Sunday, October 8, 2017