Orangesicle Crepe Cake
Your favorite summer treat now in a delicious crepe cake!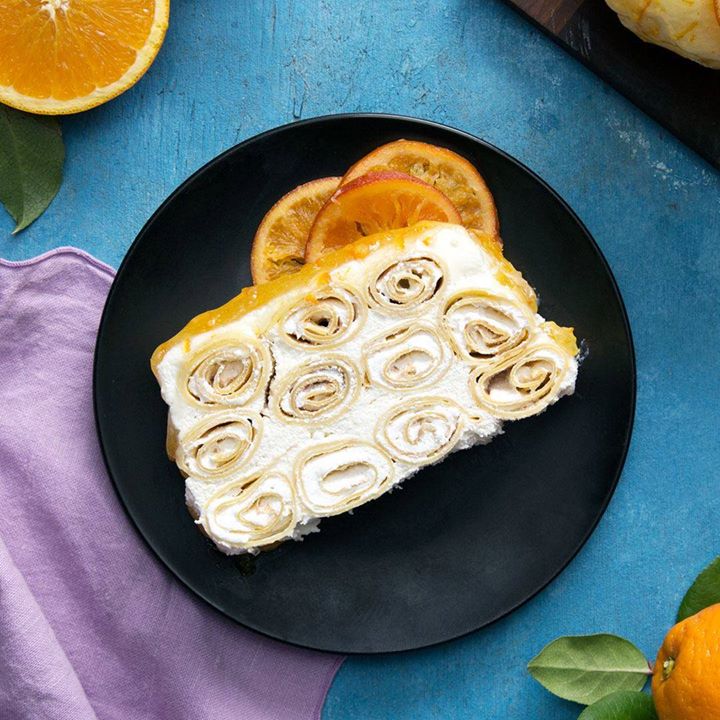 Ingredients
For the crepes:
1¼ cups all-purpose flour
Pinch of salt
4 large eggs
1 cup whole milk
¾ cup fresh squeezed orange juice, no pulp, reserve zest
1 teaspoon vanilla extract
4 ounces butter, melted plus more for cooking
Cream cheese filling:
4 ounces cream cheese, room temperature
4 ounces unsalted butter, room temperature
2 cups powdered sugar, sifted
1 teaspoon vanilla extra
Whole milk, for thinning
Whipped cream:
2 cups heavy cream
½ teaspoon orange extract
¼ cup powdered sugar
To serve:
Orange preserves, warmed, for topping
Candied orange slices, for garnish
Instructions
Make the crepes:
In a medium bowl, mix together the dry crepe ingredients.
In a separate bowl, mix together the wet ingredients. Slowly pour wet ingredients into dry and whisk until combined and smooth. If batter seems too thick, add a little water to thin it out.
In a large nonstick skillet over medium heat, melt a pat of butter. Ladle in a few tablespoons of batter and swirl pan to coat. Cook for a few minutes and flip, then cook for 1 more minute. Continue with remaining batter. Set crepes aside to cool.
Make the filling:
In a medium bowl, using a hand or stand mixer, whisk together all filling ingredients until smooth. If too thick, add whole milk, one teaspoon at a time.
Make the whipped cream:
Using a stand or hand mixer, add heavy cream, orange extract and sugar. Mix until stiff peaks form. Set aside.
Make the cake:
Line a loaf pan with plastic wrap, making sure there is overlap to cover top of loaf. Spread a small amount of cream cheese frosting over crepe and sprinkle some orange zest on top. Roll crepe up longways. Continue until you have 12 rolls.
Spread a small amount of whipped cream in the bottom of the loaf pan to coat. Place 3 rolls in the bottom of the pan. Spread a layer of whipped cream on top, making sure to completely cover any exposed crepe. Continue this layering process until you have used all the crepes. Fold edges of plastic wrap around loaf, and refrigerate for 8 hours or overnight.
Remove crepe cake from plastic wrap and flip onto serving platter. Top with orange preserves and candied oranges. Cut slices and enjoy!
Watch the recipe video here:
Is it Summer yet? Because this crepe cake is giving us all the feels.Taste for Yourself: taste.md/2JcCzyw

Posted by Tastemade on Saturday, April 21, 2018