Campfire S'Mores Bread Pudding
Delicious recipe your family and friends are sure to love.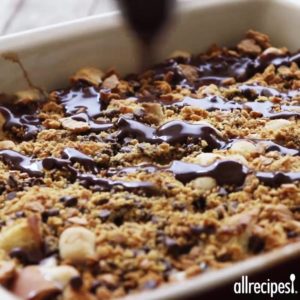 Ingredients
4 hot dog buns, cut into 1-inch pieces
1 (14 ounce) can sweetened condensed milk
¾ cup milk
4 eggs, beaten
1 teaspoon vanilla extract
¼ teaspoon ground nutmeg
1 cup miniature marshmallows
¾ cup miniature semisweet chocolate chips
5 graham cracker squares, crushed
2 tablespoons milk
2 tablespoons miniature marshmallows, or more to taste
2 tablespoons miniature semisweet chocolate chips, or more to taste
Instructions
Preheat oven to 325 degrees F (165 degrees C). Grease a 2-quart square baking dish. Spread hot dog bun pieces out onto a baking sheet.
Bake hot dog buns in the preheated oven until dry and crisp, 7 to 8 minutes. Cool completely.
Beat condensed milk, ¾ cup milk, eggs, vanilla extract, and nutmeg together in a bowl.
Spread hot dog bun pieces out in the bottom of the prepared baking dish. Pour milk mixture over buns. Scatter 1 cup marshmallows and ¾ cup chocolate chips over the milk mixture; let rest until mixture is slightly soaked into bread, about 5 minutes. Sprinkle graham cracker crumbs over the top.
Bake in the preheated oven until a knife inserted into the center of the bread pudding comes out clean, about 35 minutes.
Whisk 2 tablespoons milk, 2 tablespoons marshmallows, and 2 tablespoons chocolate chips together in a saucepan over medium heat until marshmallows and chocolate are melted and completely incorporated. Pour marshmallow mixture over bread pudding and cool, 20 to 30 minutes.
Watch the recipe video here: