Instant Pot Chocolate Pots de Creme
Lighter than a pudding, denser than a mousse and always sinfully decadent!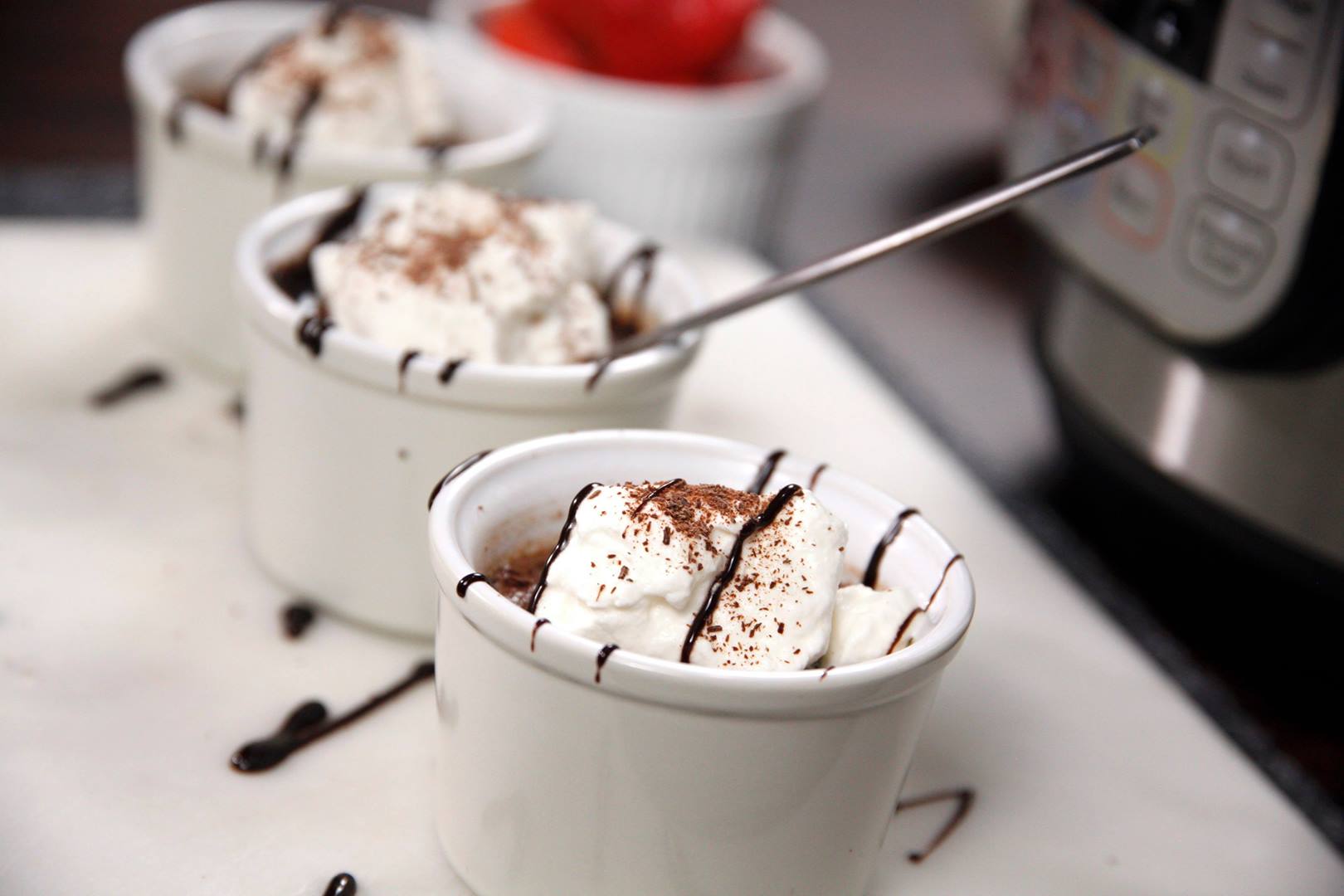 Ingredients
1 cup heavy cream
2 oz semisweet chocolate, finely chopped
2 oz bittersweet chocolate, finely chopped
2 large egg yolks
2 tbsp sugar
¼ tsp vanilla
Pinch of salt
1 cup water
Whipped cream and additional grated chocolate or cinnamon for serving (optional)
Instructions
Combine cream and chopped chocolates. Heat gently on the stove or in the microwave, whisking until chocolate melts and mixture is smooth. Do not boil.
In a large bowl, whisk together egg yolks, sugar, vanilla and salt. Slowly whisk in chocolate cream mixture until well blended.
Divide custard evenly amongst 3 ramekins or custard cups.
Pour 1 cup of water in the Instant Pot and insert the steam rack.
Arrange 3 ramekins on the steam rack, then secure the lid, making sure the vent is closed.
Using the display panel select the MANUAL function*. Use the +/- keys and program the Instant Pot for 5 minutes.
When the time is up, let the pressure naturally release for 15 minutes, then quick-release the remaining pressure.
Carefully remove the ramekins from the pot to a cooling rack. When completely cool, cover with plastic wrap and refrigerate for at least 4 hours.
Serve with whipped cream and additional grated chocolate or cinnamon.
Watch the recipe video here:
Lighter than a pudding, denser than a mousse and always sinfully decadent!RECIPE: http://chopsecrets.com/instant-pot-chocolate-pots-de-creme/

Posted by Chop Secrets on Tuesday, May 28, 2019