Instant Pot Cheesecake
For when you need cheesecake stat.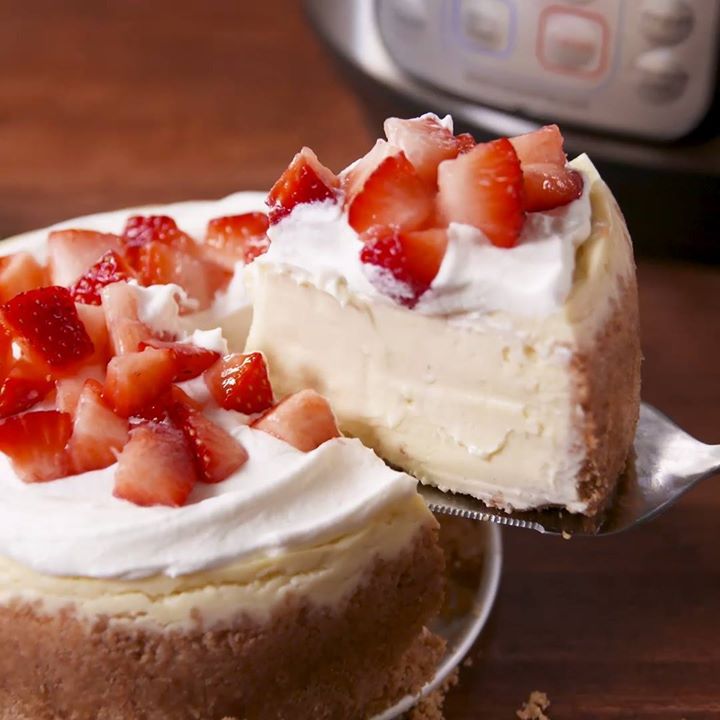 Ingredients
FOR THE CRUST
Cooking spray, for pan
1 c. crushed graham crackers
3 tbsp. butter, melted
pinch of salt
FOR THE CHEESECAKE
16 oz. (2 blocks) cream cheese, softened
½ c. granulated sugar
¼ c. light brown sugar
¼ c. sour cream
1 tbsp. all-purpose flour
2 eggs
1 tsp. pure vanilla extract
¼ tsp. kosher salt
Cool Whip, for garnish
Chopped strawberries, for garnish
Instructions
Grease a 6" springform pan with cooking spray. In a medium bowl, combine graham cracker crumbs, melted butter, and salt and mix until mixture is the texture of wet sand. Spread evenly in the bottom and up the side of the pan. Freeze for 20 minutes.
In a large bowl using a hand mixer, beat cream cheese, sugars, sour cream and flour until light and fluffy. Add vanilla and salt and beat until combined. Add eggs, one at time, and beat until just blended. Don't over-mix. Pour batter into springform pan on top of crust.
Pour 1 ½ cups water into Instant Pot and place trivet in the bottom. Fold a large piece of foil (about 18") into thirds to make a long "sling," and lower it into the instant pot. Put the pan on top and fold the sling.
Lock the lid in place and select High Pressure. Set timer for 35 minutes. Allow the pressure to release naturally. Remove the cheesecake from Instant pot using the sling and place on a wire rack to cool for at least an hour.
Cover springform pan with foil and refrigerate for 4 hours or up to overnight.
Watch the recipe video here:
How To Make Instant Pot Cheesecake

Once you make cheesecake in an Instant Pot you'll never go back. Full recipe: http://dlsh.it/qbkgXo6 Buy one on Amazon.com: http://amzn.to/2GRU5rE(We'll make money to fund our videos!)

Posted by Delish on Wednesday, March 7, 2018