Ice Cube Cookie Dough Chocolates
Bite sized edible cookie dough coated in chocolate, ready to be dunked in a glass of milk. These no bake treats are easy to prepare and great to share!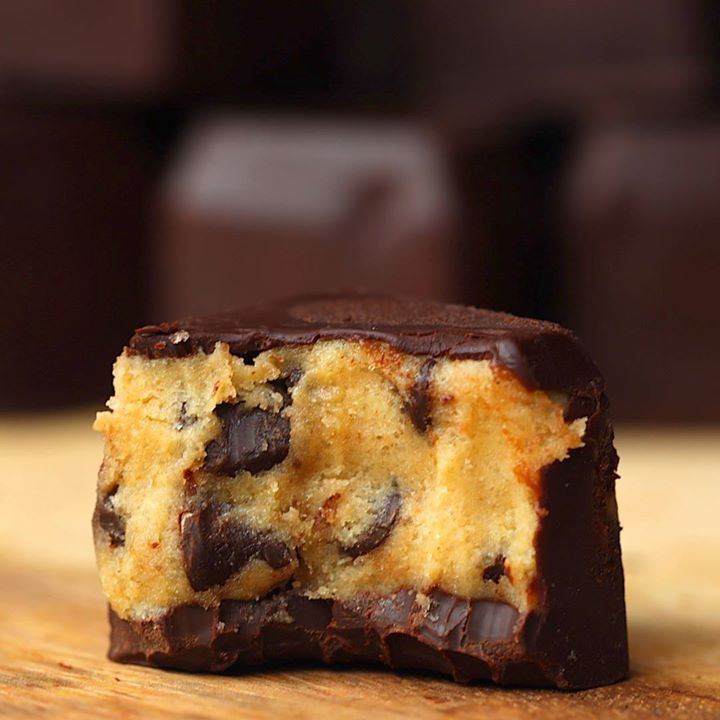 Ingredients
Coating:
500g dark chocolate, finely chopped
2 tbsp coconutoil
¾ cups butter, softened
¾ cup brown sugar
¼ cup granulated sugar
1 ½ cups flour
1 tsp salt
1 tsp vanilla
2 tsp milk
1 cup chocolate chips
Instructions
In a microwavable jug, add chopped chocolate and coconut oil. Microwave. on high for 2 minutes until completely melted. Pour into ice cube tray and tilt tray in all directions, allowing chocolate to cover the sides. Flip trays upside down to let excess chocolate drip out. Keep remaining chocolate for topping. Then refrigerate for 5 minutes.
In a large bowl, cream together butter, brown sugar, granulated sugar ,and milk until pale a fluffy.
Heat flour in microwavable-bowl for 1 minute. Let cool. Add flour, salt, and chocolate chips; fold until combined.
Fill each ice cube mould with cookie dough. Top with remaining chocolate (reheat in microwave if needed).
Chill again for 30 minutes or until set.
Enjoy!
Watch the recipe video here: