Mexican Steak and Veggie Salad
Marinated and roasted tomatoes, onion, and black beans are tossed with flank steak, cilantro, and queso fresco in this Mexican-inspired salad.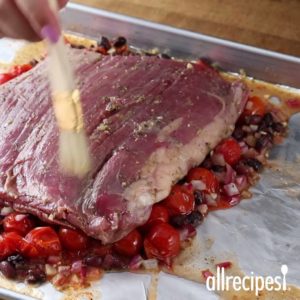 Ingredients
2 pounds flank steak
6 tablespoons extra-virgin olive oil
¼ cup lime juice
2 tablespoons Worcestershire sauce
4 cloves garlic, minced
2 teaspoons dried oregano
1 teaspoon kosher salt
¼ teaspoon ground cumin
¼ teaspoon ground black peppercooking spray
1 (15 ounce) can black beans, rinsed and drained
1½ cups cherry tomatoes
1 red onion, chopped
8 cups chopped romaine lettuce
1 cup crumbled queso fresco
¼ cup chopped fresh cilantro
Instructions
Put steak in a large resealable plastic bag. Whisk olive oil, lime juice, Worcestershire sauce, garlic, oregano, salt, cumin, and black pepper in a small bowl. Reserve ½ cup marinade for vegetables; pour remainder over steak and turn to coat. Seal bag. Chill at least 2 hours or up to 12 hours.
Preheat oven to 450 degrees F (230 degrees C). Place 1 rack in center position and another 4 inches from broiler. Line a baking sheet with aluminum foil and spray with cooking spray.
Toss black beans, tomatoes, and onion, with reserved ½ cup marinade on the prepared baking sheet and spread in an even layer.
Roast on center rack until vegetables begin to pucker and brown, 15 to 20 minutes.
Remove baking sheet from oven and turn oven to broil. Push vegetables to the middle of the pan. Remove steak from marinade, allowing excess liquid to drip off, brush off garlic, and set on top of vegetables. Discard marinade.
Broil steak on top rack, flipping once, until it begins to char and an instant-read thermometer inserted into thickest part registers 125 degrees F (52 degrees C) for rare or 135 degrees F (57 degrees F) for medium-rare, 3 to 5 minutes per side.
Cover steak loosely with foil and let rest 10 minutes before slicing thinly across the grain. Serve warm steak and vegetables with pan juices over romaine; top with queso fresco and cilantro.
Watch the recipe video here: