Baked Sweet-and-Sour Chicken
Baked Sweet-and-Sour Chicken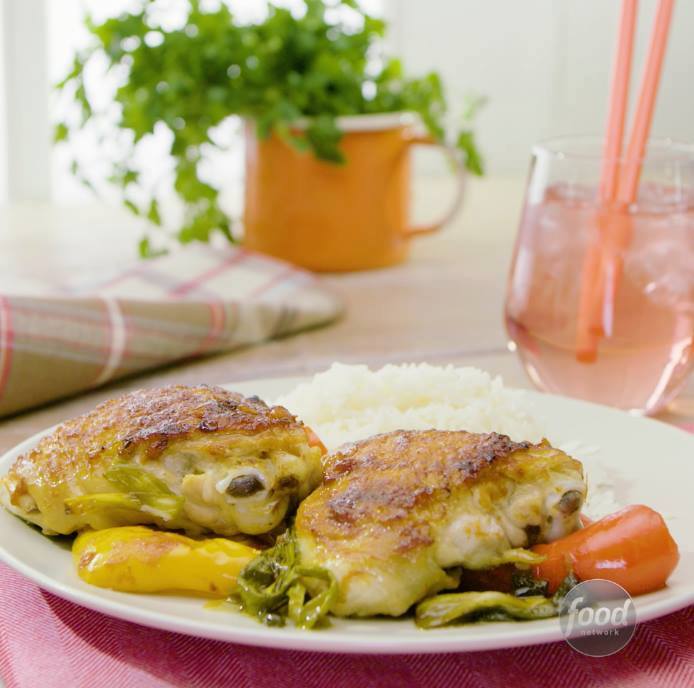 Ingredients
3 tablespoons ketchup
2 tablespoons orange marmalade or apricot preserves
2 teaspoons low-sodium soy sauce
2 teaspoons balsamic vinegar
1 1-inch piece ginger, peeled and finely grated
Large pinch of cayenne pepper (optional)
2 bell peppers (1 red, 1 yellow), quartered lengthwise
1 bunch scallions, cut into 3-inch pieces
3 teaspoons extra-virgin olive oil
Kosher salt
8 skin-on, bone-in chicken thighs (3 to 3¾ pounds)
Cooked white rice, for serving (optional)
Instructions
Preheat the oven to 450 degrees F. Make the sweet-and-sour sauce: Whisk the ketchup, marmalade, soy sauce, vinegar, ginger and cayenne in a small bowl. Put the bell peppers and scallions on a rimmed baking sheet and toss with 2 tablespoons of the prepared sauce, 1½ teaspoons olive oil and a pinch of salt.
Heat the remaining 1½ teaspoons olive oil in a large skillet over medium-high heat. Sprinkle the chicken with ½ teaspoon salt. Working in batches, add the chicken to the skillet skin-side down and cook, undisturbed, until the skin is golden and slightly crisp, about 4 minutes. Place skin-side up on the baking sheet with the vegetables.
Brush the chicken with half of the remaining sweet-and-sour sauce. Bake until a thermometer inserted into the thickest part registers 165 degrees F, 20 to 25 minutes. Divide the chicken and vegetables among plates. Serve with rice and the remaining sauce.
Watch the recipe video here: