Southern Shrimp Boil
Serve your Southern Shrimp Boil with crusty bread to soak up the dynamite flavor. ? (via Guy Fieri)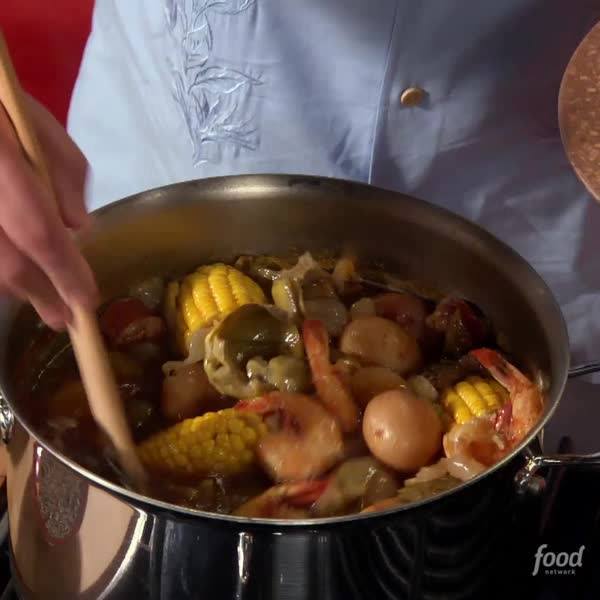 Ingredients
3 tablespoons vegetable oil
10 ounces andouille sausage, cut into 1-inch rounds
1½ cups cipollini onions, peeled, halved
1 pound baby artichokes (about 8 small), trimmed and halved
1 jalapeno, diced
3 quarts water
1 pound small red potatoes
3 tablespoons shrimp boil spice (recommended: Old Bay)
1 tablespoon kosher salt
3 bay leaves
1 teaspoon hot sauce
1 teaspoon ground black pepper
2 ears of corn (about 1 pound), cut into thirds
1 pound (16/20 count) shell-on shrimp, deveined
3 green onions, sliced for garnish
Garlic bread, recipe follows
Garlic Bread:
2 sticks butter, softened
2 cloves garlic, minced
1 scallion, minced
1 tablespoon Parmesan
1 tablespoon finely chopped parsley leaves
Hot sauce, to taste
Salt and freshly cracked black pepper
1 French baguette
Instructions
In a small stock pot, heat oil over medium heat. Saute sausage, onions and artichokes until lightly colored, about 5 minutes. Add jalapeno, water, potatoes, shrimp boil spice, salt, bay leaves, hot sauce and black pepper. Cover pot and bring to a boil. Reduce heat add corn and cover. Cook until corn is tender, about 10 minutes. Add shrimp and cook until pink and firm, about 5 minutes. Strain the boil through a colander. Plate immediately on a large serving dish. Garnish with sliced green onions or your favorite fresh herb. Serve with Garlic Bread.
Garlic Bread:
In a small bowl, mix butter together with garlic, scallion, Parmesan, parsley, hot sauce and salt and pepper, to taste. Preheat broiler with rack 4 inches from heat. Slice baguette horizontally. Spread butter on both halves. Place on a sheet pan and toast under the broiler, about 2 minutes.
Watch the recipe video here: