Rhubarb Upside-Down Cake
I've baked this cake every spring for many years, and my family loves it! At potlucks it gets eaten up quickly, even by folks who don't normally go for rhubarb. Use your own fresh rhubarb, hit up a farmers market or find a neighbor who will trade stalks for the recipe!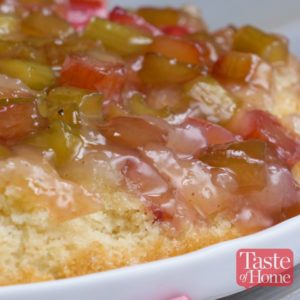 Ingredients
3 cups sliced fresh or frozen rhubarb
1 cup sugar
2 tablespoons all-purpose flour
¼ teaspoon ground nutmeg
¼ cup butter, melted
BATTER
¼ cup butter, melted
¾ cup sugar
1 large egg, room temperature
1-1/2 cups all-purpose flour
2 teaspoons baking powder
½ teaspoon ground nutmeg
¼ teaspoon salt
⅔ cup whole milk
Sweetened whipped cream, optional
Instructions
Place rhubarb in a greased 10-in. heavy ovenproof skillet. Combine sugar, flour and nutmeg; sprinkle over rhubarb. Drizzle with butter; set aside. For batter, in a large bowl, beat the butter and sugar until blended. Beat in the egg. Combine the flour, baking powder, nutmeg and salt. Gradually add to egg mixture alternately with milk, beating well after each addition.
Spread over rhubarb mixture. Bake at 350° for 35 minutes or until a toothpick inserted in the center comes out clean. Loosen edges immediately and invert onto a serving dish. Serve warm. Serve with whipped cream if desired.
Watch the recipe video here:
This dessert will convert rhubarb haters into rhubarb lovers!> Get the recipe for Rhubarb Upside-Down Cake: https://trib.al/153P6YQ

Posted by Taste of Home on Thursday, May 9, 2019