Salted Caramel Chocolate Chip Cookies
I had a craving for chocolate chip cookies with caramel chunks. All I had on hand for salt was coarse salt and, much to my surprise, the result was delicious.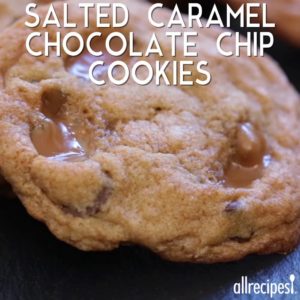 Ingredients
3 cups all-purpose flour
1 teaspoon baking soda
1 teaspoon coarse salt
1¾ cups brown sugar
1 cup unsalted butter, softened
¼ cup white sugar
2 eggs
2 teaspoons vanilla extract
2 cups chocolate chips
18 unwrapped caramel candies (such as Werther's®), each cut into 6 pieces
Instructions
Preheat oven to 350 degrees F (175 degrees C).
Whisk flour, baking soda, and salt together in a bowl.
Beat brown sugar, butter, and white sugar together in a bowl using an electric mixer until creamy. Beat eggs, 1 at a time, into butter mixture until blended; beat in vanilla extract. Stir flour mixture into butter mixture until dough is just combined; fold in chocolate chips.
Divide dough into thirty six 2 tablespoon-size balls; arrange on a baking sheet. Press 3 caramel pieces into each dough ball.
Bake in the preheated oven until edges are golden brown, 13 to 15 minutes. Transfer cookies to a wire rack to cool.
Watch the recipe video here: