Cherry and Chocolate Ice Cream Pie
We took cherry pie to a whole new level as a frozen treat. With a luscious layer of chocolate fudge inside, this is one impressive pie.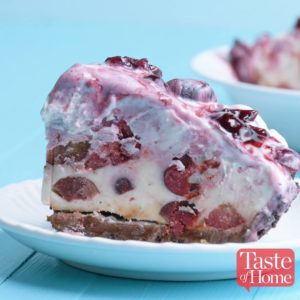 Ingredients
15 Oreo cookies
¼ cup butter, melted
¾ cup hot fudge ice cream topping
4 cups vanilla ice cream, softened
3 cups fresh or frozen dark sweet cherries, pitted and quartered, divided
½ cup water
¼ cup sugar
2 tablespoons thawed cranberry juice concentrate
1 tablespoon cornstarch
1 tablespoon cherry liqueur, optional
Instructions
Pulse cookies in a food processor until fine crumbs form. Add butter; process until blended. Press mixture onto bottom and up sides of an ungreased 9-in. pie plate. Freeze until firm, about 15 minutes. Carefully spread hot fudge topping over bottom of crust. Freeze until firm, about 30 minutes.
Combine ice cream and 1 cup cherries; spread over hot fudge. Freeze until firm, about 8 hours.
Meanwhile, in a large saucepan, combine water, sugar, cranberry juice concentrate and cornstarch; bring to a boil over medium heat, stirring constantly. Stir in remaining cherries. Reduce heat; simmer, uncovered, until thickened and cherries are soft, about 5 minutes. Remove from heat; if desired, stir in liqueur. Cool completely.
Remove pie from freezer 10 minutes before cutting. Serve with sauce.
Watch the recipe video here: