Pumpkin Cheesecake 'Box' Brownie Bars
You gotta whip up these pumpkin cheesecake brownie bars ASAP! ?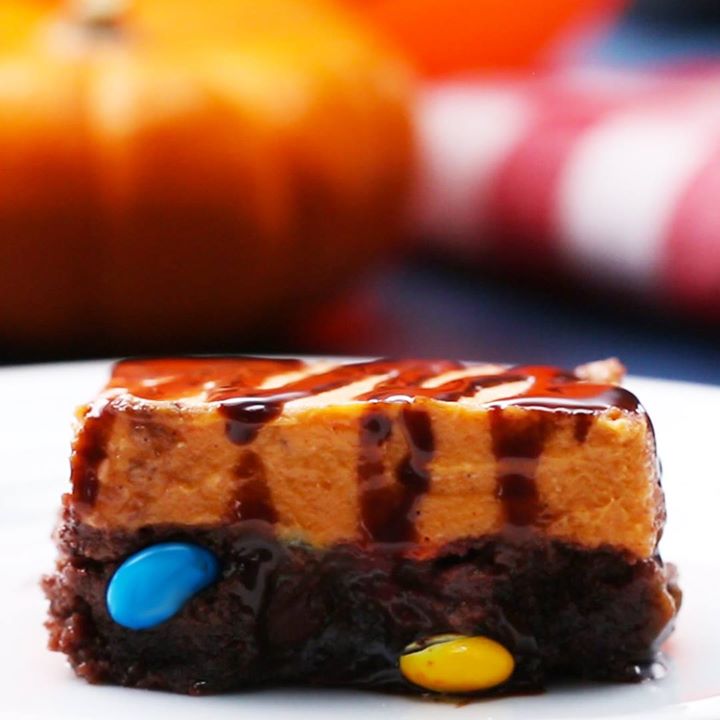 Ingredients
1 box brownie mix, prepared
1 cup leftover chocolate candy, chopped
½ cup heavy cream, warm to the touch
1 tablespoon gelatin
24 oz cream cheese, softened
1 cup sugar
2 teaspoons pumpkin pie spice
1 tablespoon vanilla extract
29 oz pumpkin puree
chocolate syrup, to serve
Instructions
Preheat oven to 350˚F (180˚C).
Prepare your favorite type of brownie batter or use a boxed variety.
Transfer the batter to a greased 9x13-inch (23x33 cm) baking dish.
Sprinkle in the chopped leftover candy and place in the oven to bake for 25 minutes or until cooked through. Let cool completely.
To the warmed heavy cream, add a package of gelatin and allow it to bloom for 1-3 minutes.
To a large bowl, add the cream cheese, sugar, pumpkin pie spice, vanilla extract, pumpkin puree, warm cream with gelatin. Stir to combine.
Pour the mixture over the brownies and let cool in the refrigerator for at least 4 hours, or until set.
Slice the brownies, drizzle with chocolate syrup, and serve.
Enjoy!
Watch the recipe video here:
Pumpkin Cheesecake Brownie Bars

You gotta whip up these pumpkin cheesecake brownie bars ASAP! ?FULL RECIPE: https://tasty.co/recipe/pumpkin-cheesecake-box-brownie-barsWe teamed up with Jet and you can get all of our baking essentials here: http://bit.ly/2yMCmR4 (Just so you know, we'll make some money if you use this link.)

Posted by Tasty on Thursday, October 26, 2017