Ultimate Fudgy Brownies
In these ultra fudgy brownies, coffee granules bump up the chocolate flavor. Add chocolate chips to the batter and you've got irresistible treats.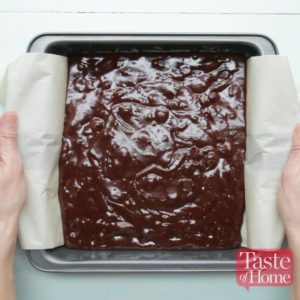 Ingredients
1 cup sugar
½ cup packed brown sugar
⅔ cup butter, cubed
¼ cup water
2 teaspoons instant coffee granules, optional
2-3/4 cups bittersweet chocolate chips, divided
4 large eggs
2 teaspoons vanilla extract
1-1/2 cups all-purpose flour
½ teaspoon baking soda
½ teaspoon salt
Instructions
Preheat oven to 325°. Line a 9-in. square baking pan with parchment paper, letting ends extend up sides. In a large heavy saucepan, combine sugars, butter, water and, if desired, coffee granules; bring to a boil, stirring constantly. Remove from heat; add 1-3/4 cups chocolate chips and stir until melted. Cool slightly.
In a large bowl, whisk eggs until foamy, about 3 minutes. Add vanilla; gradually whisk in chocolate mixture. In another bowl, whisk flour, baking soda and salt; stir into chocolate mixture. Fold in remaining chocolate chips.
Pour into prepared pan. Bake on a lower oven rack 40-50 minutes or until a toothpick inserted in center comes out with moist crumbs (do not overbake). Cool completely in pan on a wire rack.
Lifting with parchment paper, remove brownies from pan. Cut into squares.
Watch the recipe video here: