Sugar Swirl Cookies
Sugar Swirl Cookies recipe.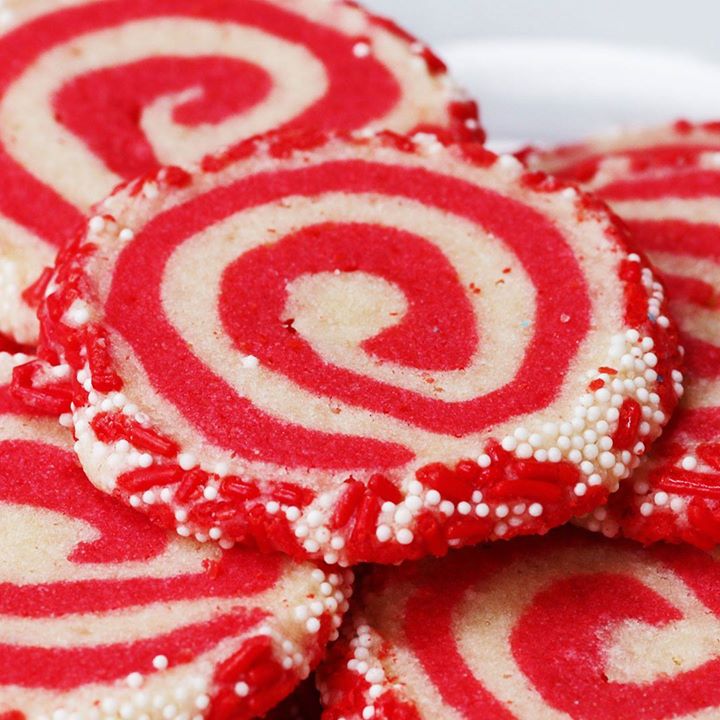 Ingredients
8 tablespoons butter, soft
1 cup sugar (200 g)
1 egg
½ teaspoon vanilla extract
½ teaspoon salt
1 ½ cups flour (187 g)
½ teaspoon red food coloring, (or customize it with other colors)
sprinkles, to taste
Instructions
In a large bowl, mix together butter and sugar until light and fluffy.
Mix in egg, vanilla, and salt.
Mix in flour.
Make the dough into a ball and cut into two halves.
Add food coloring to one half of the dough, working it in until evenly mixed.
On a large cutting board covered in plastic wrap, use a rolling pin to roll out each piece of dough to make two 12x9-inch (30x22 cm) rectangles. Tip: Place wax paper over the dough while rolling to keep the dough from sticking to the rolling pin.
Take the colored dough rectangle and place it over the other regular dough rectangle.
Use the plastic wrap under the regular dough rectangle to help you roll the two rectangles up.
Fill a flat dish or baking pan with sprinkles. Roll the dough around it until the outside is completely coated.
Chill for at least 4 hours.
Preheat the oven to 375°F (190°C).
Cut the dough into ¼-inch slices and place them on a cookie sheet.
Bake for 8-10 minutes, until blonde.
Enjoy!
Watch the recipe video here:
Bring these show-stoppers to your next holiday party ✨!

Posted by Tasty on Thursday, December 7, 2017