Oreo Cheesecake Bites
In my opinion, Oreos are the most delicious store-bought cookie you will ever come across. Not to mention everything you can do with an oreo cookie! These mini cream cheese oreo bites are the most delicious treat ever! The simplicity of them alone gets me even more excited to whip these up! Only 6 ingredients and you are on your way to oreo heaven! These will have you drooling by the time they come out of the oven!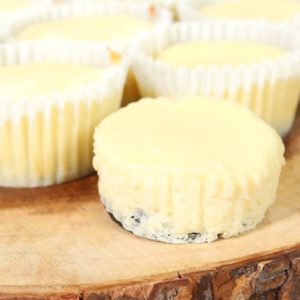 Ingredients
12 Oreo cookies
2 8oz Packages light cream cheese, softened
1 5.3oz Container plain, fat-free Greek yogurt
½ CUP Sugar
½ tsp Vanilla
2 Eggs
Instructions
Preheat oven to 350ºF.
Line each muffin tin with a cupcake liner.
Place one Oreo cookie in the bottom of each cupcake liner.
In a mixing bowl with beaters, blend together cream cheese, Greek yogurt and sugar until thoroughly combined.
Add in vanilla and mix.
Add in eggs, one at a time until blended.
Using cookie scooper or spoon, scoop cream cheese mixture into the muffin tin, over the Oreo in the bottom.
Place in oven and bake for 20 minutes.
Pull out of oven and place muffin tin on a cookie rack to cool.
When cool, lightly take out of muffin tin and peel away the liner.
Enjoy!
Watch the recipe video here: