Instant Pot Butterfinger Cake
It's a huge crowd-pleaser you'll be asked for again and again.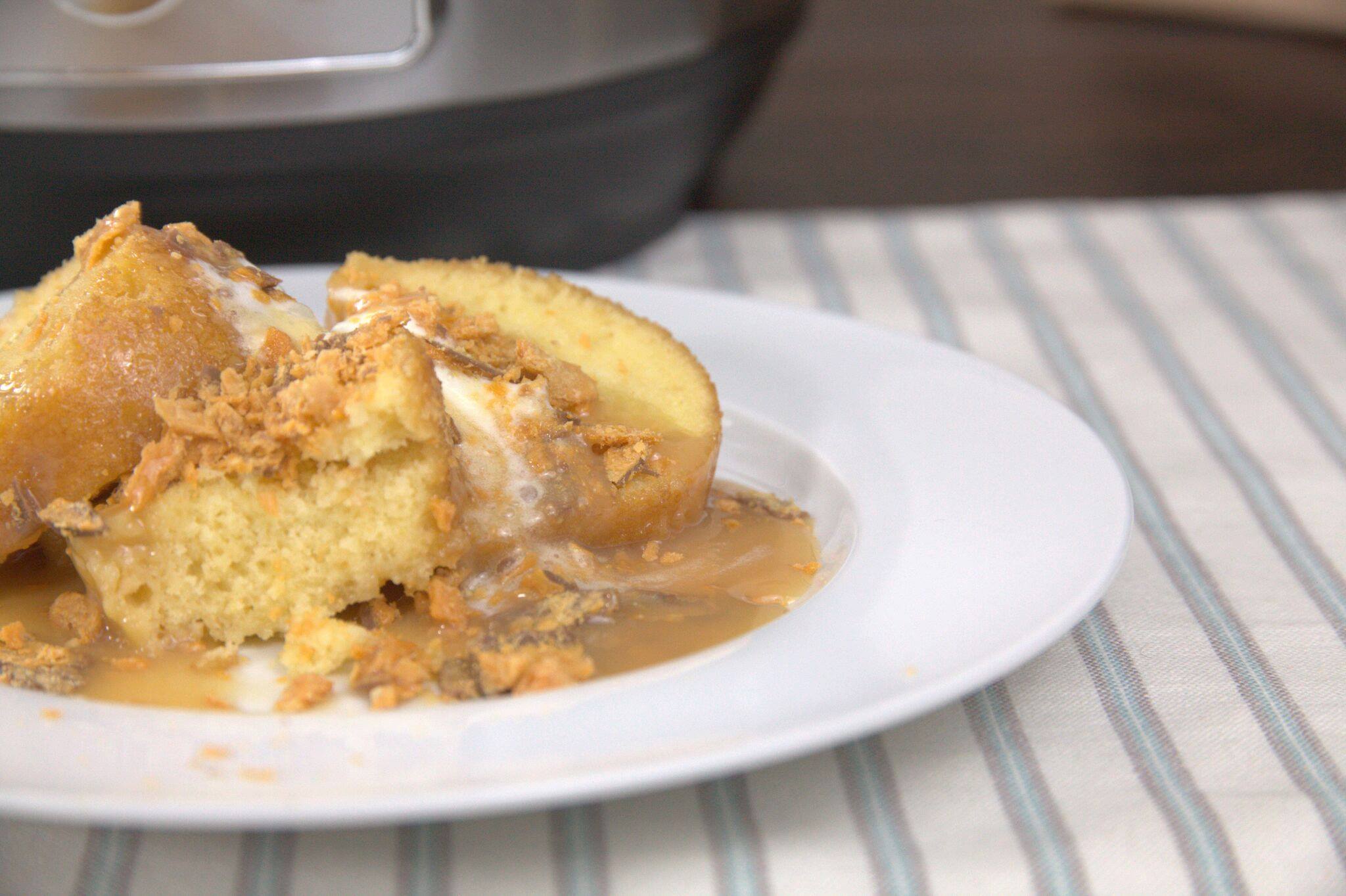 Ingredients
1 box yellow cake mix
5 oz sweetened condensed milk
4 oz caramel ice cream topping (we like Smuckers Caramel Topping https://www.amazon.com/Smuckers-Caramel-Flavored-Topping-12-25/dp/B06VWCPY4H )
2 Butterfinger candy bars, chilled and finely crumbled
Whipped cream or whipped topping and one additional Butterfinger for garnish
Instructions
Combine sweetened condensed milk and caramel topping, set aside.
Mix cake according to package directions.
Coat the inside of a 6 cup bundt pan with non-stick spray (our favorite is the Nordic Ware 6-Cup Bundt Pan: https://amzn.to/2RNympZ)
Pour in the cake batter until ¾ full. You may have leftover batter.
Pour one cup of water in the Instant Pot and insert the trivet. Carefully lower the bundt pan on to the trivet.
Secure the lid, making sure the vent is closed.
Using the display panel select the MANUAL function*. Use the +/- keys and program the Instant Pot for 28 minutes.
When the time is up, quick-release the remaining pressure. Carefully remove bundt pan from the pot and set on a cooling rack.
While the cake is still hot, make 1½" deep holes across the surface of the cake with the handle of a wooden spoon or a straw. Pour 6 oz of the caramel/milk topping over the cake.
When cake is completely cool, turn out onto a cake plate, drizzle with remaining caramel/milk topping and sprinkle with crushed Butterfinger.
Garnish with whipped cream and additional Butterfinger as desired.
Watch the recipe video here: