Mutant Underground Sheet-Pan PiXXa
Pick a side! This piXXa lets you choose the perfect ingredients to match your mutant powers! Serve this to friends for the season premiere of The Gifted on Tuesday, September 25 on Fox!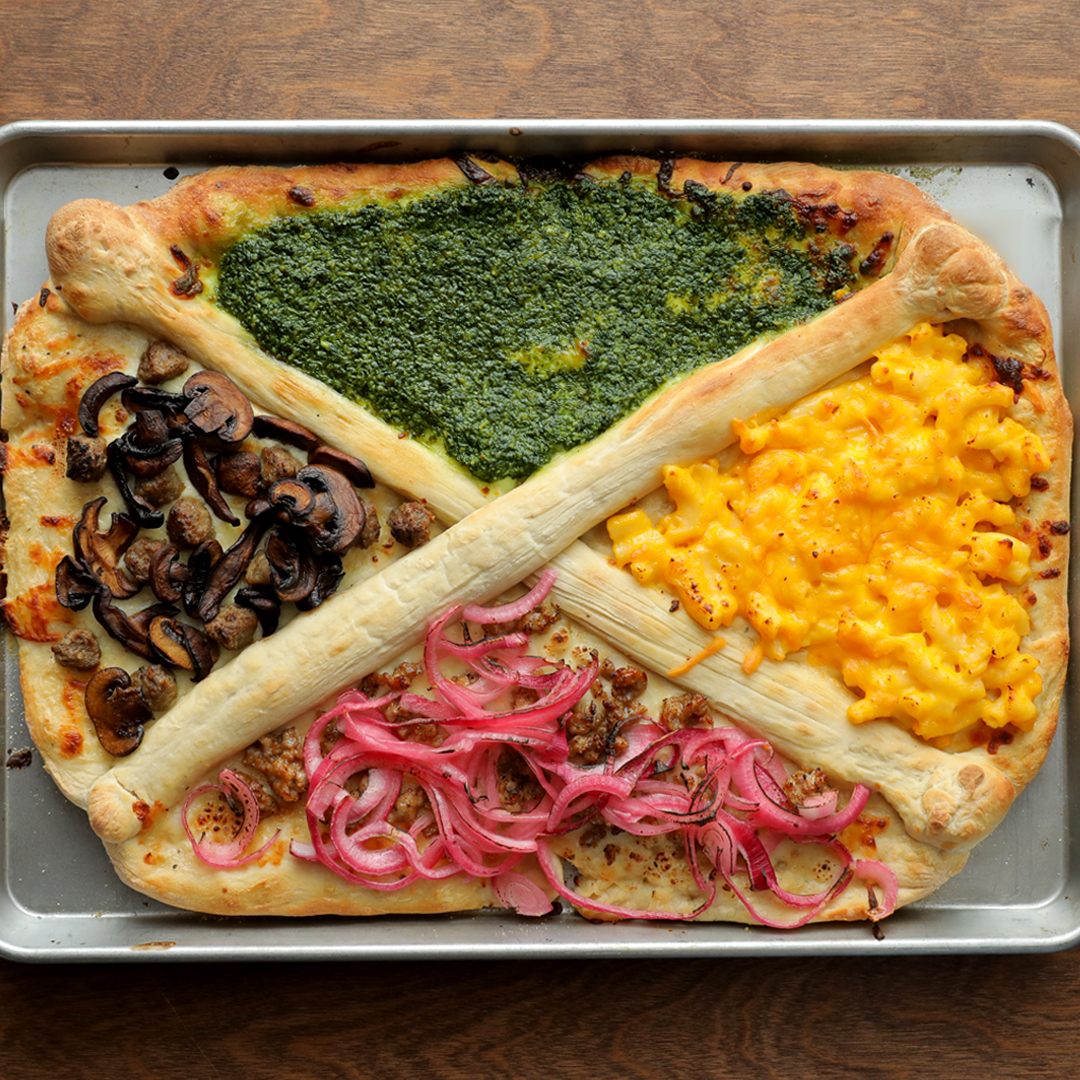 Ingredients
* 3 small (about 36-ounce) fresh pizza-dough balls, divided
* 1½ cups alfredo sauce
* ¼ cup fresh pesto
* ⅓ cup fresh macaroni and cheese
* ¼ cup sautéed mushrooms
* ¼ cup cooked Italian sausage (crumbled)
* ⅓ cup red onions, sliced
* 1 cup apple cider vinegar
* 2 tablespoons sugar
* 1 tablespoon kosher salt
* ¼ cup cooked meatballs
* 1 cup shredded mozzarella cheese, divided
* ¼ cup cheddar cheese
* 3 tablespoons olive oil
* 3 tablespoons cornmeal
* Additional marinara sauce (dipping)
Instructions
Preheat oven to 450°F. Oil a sheet pan and dust with cornmeal. Carefully press dough across half of sheet pan, using 2 balls and making sure to completely cover the bottom and sides. Use remaining ball of dough to roll out 2 tubes of dough that will cross the pan (lengthwise) to create an X shape. Secure the X to the corners (press into the bottom and sides). Brush sides and X with olive oil.
Add apple cider vinegar, sugar, and kosher salt to pot and boil. Pour over onions and let sit at least 1 hour to pickle.
Carefully spoon ¼ cup of alfredo sauce into each section. Place ¼ cup of cheese on top of each section. Bake for 6–8 minutes until dough is set and cheese is melted. Remove from oven and carefully place ingredients in each section.
* Macaroni and cheese with cheddar
* Crumbled sausage with pickled onions
* Cooked mushrooms and meatballs
* Pesto
Bake an additional 8–10 minutes or until pizza is well browned.
Cut each section into slices, being careful to leave the X intact. Serve the X with marinara sauce.
Watch the recipe video here:
Mutant Underground Sheet-Pan PiXXaPick a side! This piXXa lets you choose the perfect ingredients to match your mutant powers! Serve this to friends for the season premiere of The Gifted on Tuesday, September 25 on Fox!

Posted by Tasty on Friday, September 14, 2018