Cookie Dough Dessert Lasagna
Lasagna isn't just for dinner anymore!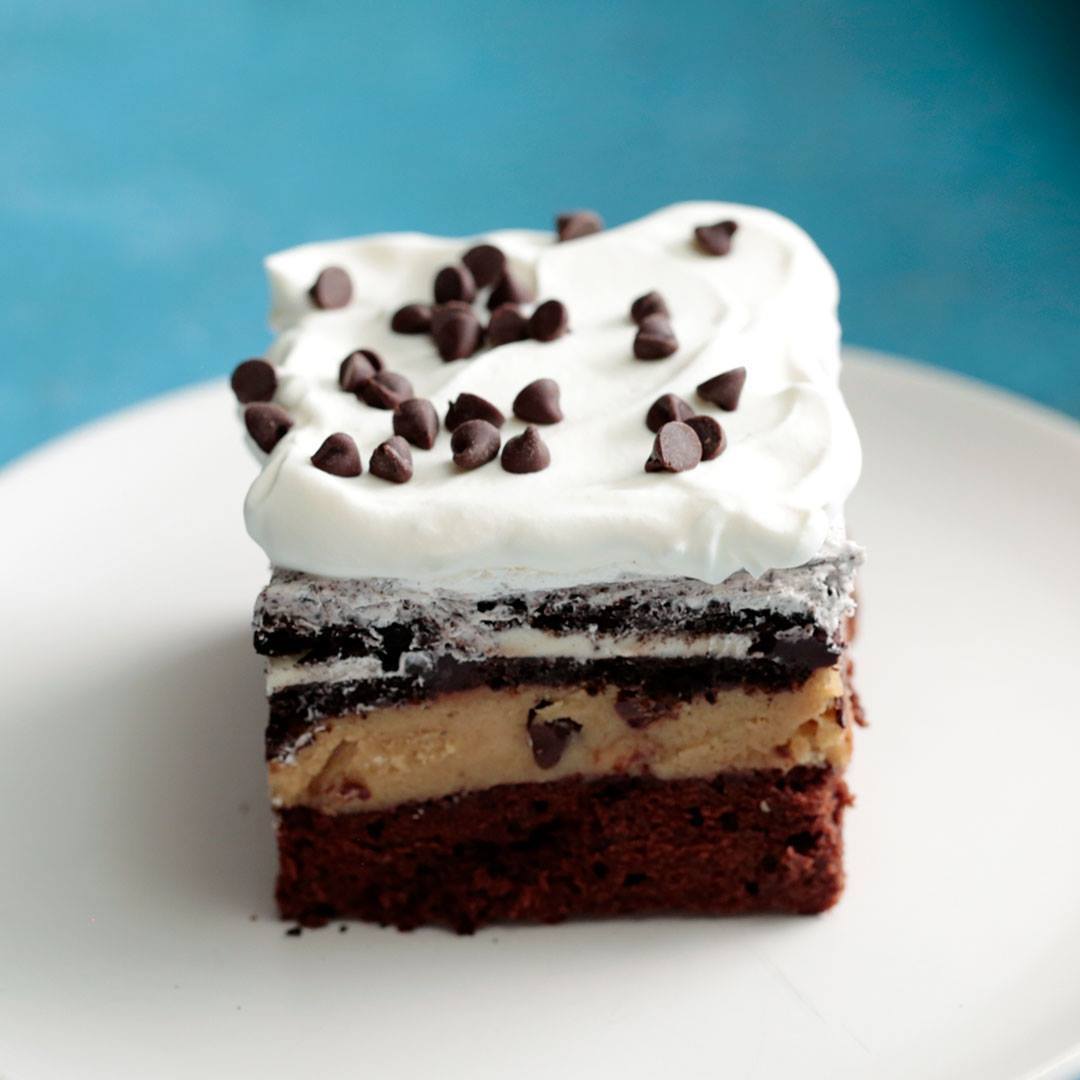 Ingredients
For the brownie base:
1 cup butter, softened at room temperature
1⅓ cups chopped dark chocolate
½ cup sugar
½ cup brown sugar
3 large eggs
1 teaspoon vanilla
¾ cup plus 2 tablespoons all-purpose flour
1 teaspoon salt
¼ teaspoon baking powder
For the edible cookie dough:
1½ cups brown sugar
1 cup butter, room temperature
2 teaspoons vanilla extract
2½ cups all-purpose flour, toasted for 3 minutes
1 teaspoon salt
½ cup heavy cream
1 cup mini chocolate chips
For the chocolate ganache layer:
2 cups dark chocolate chips
1 cup heavy cream
2 tablespoons coconut oil
30 Oreos, for layering
For the Oreo cream layer:
3 cups vanilla buttercream
16 Oreos, finely ground
For topping:
3 cups whipped cream
2 cups mini chocolate chips
Instructions
Make the brownie base:
Preheat the oven to 350 degrees, and line a 9 by 13 pan with parchment paper.
In a large bowl over a double-boil, melt butter and chocolate. Add sugars and remove from heat. Stir in eggs and vanilla. Add flour, salt and baking powder to combine. Pour batter into prepared pan. Bake for 30 to 35 minutes until set and slightly shiny. Allow to cool completely and set in the fridge to chill.
Make the chocolate chip cookie dough:
In a bowl, beat the brown sugar and butter with an electric mixer until fluffy. Beat in the vanilla extract. Add the flour and salt and mix until combined. Add cream a little at a time until the mixture is spreading consistency (you may not have to use all of the cream). Fold in chocolate chips. Press frosting onto the chilled brownie layer and return to the fridge.
Make the ganache layer:
Set chocolate chips in a medium-sized bowl, and heat the cream to a near boil. Pour cream over chocolate and whisk to combine. Add coconut oil, and set aside to cool.
Make the Oreo frosting layer:
In a large bowl, mix frosting and Oreo crumbles until combined. Set aside.
Assemble the lasagna:
Place Oreos across the chocolate chip cookie dough layer to completely cover, and top with ganache. Top with another layer of Oreos and set to chill. Top with an Oreo layer, making sure to create an even layer. Top with whipped cream and mini chips and serve. Lasagna will keep up to 5 days refrigerated.
Watch the recipe video here:
All my single ladies, we're here to remind you that you're a strong, independent woman that don't need no man (only this 5-Layer Dessert Lasagna)Taste for Yourself: taste.md/2GK7uRg

Posted by Tastemade on Thursday, May 24, 2018