BLUEBERRY DOUGHNUT MUFFINS
Blueberry Doughnut Muffins bake up high and mighty and are topped with a sweet and tangy lemon glaze. They're perfect for breakfast or an afternoon snack.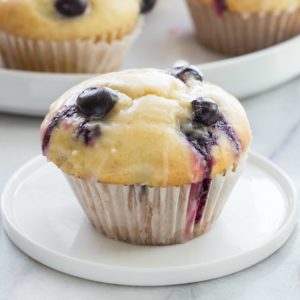 Ingredients
For the Muffins
zest of 2 lemons
½ cup granulated sugar
⅓ cup brown sugar
¼ cup unsalted butter, softened
¼ cup vegetable oil
2 large eggs
1 teaspoon pure vanilla extract
2⅔ cups all-purpose flour
1½ teaspoons baking powder
¼ teaspoon baking soda
¾ teaspoon salt
1 cup milk
1⅓ cup fresh blueberries
For the Glaze
3 tablespoons unsalted butter; melted
1 cup confectioners' sugar; sifted
½ teaspoon pure vanilla extract
1 tablespoon freshly squeezed lemon juice
1 tablespoon warm water
Instructions
Preheat the oven to 425°F. Lightly grease a standard muffin tin, or line with 12 paper muffin cups.
In a medium bowl, combine the lemon zest and sugars. Use your fingertips to incorporate the zest into the sugars until it is moist and fragrant.
In the bowl of a stand mixer fitted with a paddle attachment or in a large mixing bowl with an electric mixer, cream together the butter, vegetable oil, and sugars until smooth. Add the eggs and vanilla, beating to combine.
In a medium bowl, combine the flour, baking powder, baking soda and salt. Stir the flour mixture into the butter mixture alternately with the milk, beginning and ending with the flour and making sure everything is thoroughly combined. Fold in the blueberries.
Spoon the batter evenly into the prepared pan, filling the cups nearly full.
Bake the muffins for 15 to 17 minutes, or until they're a pale golden brown and a cake tester inserted into the middle of one of the center muffins comes out clean.
In a medium bowl, prepare the glaze by mixing together the melted butter, confectioners' sugar, vanilla, lemon juice and water. Whisk until smooth.
When muffins have cooled slightly, dip the muffin crown into the glaze and allow the glaze to harden. At this point, you can leave them as is or go for the double dip. I glazed my muffins twice.
Serve warm, or cool on a rack and wrap airtight. Muffins will keep at room temperature for about a day.
Watch the recipe video here: