Avocado Basil Cucumber Bites
Refreshing, healthy, and so-tasty appetizer that takes just minutes to prepare but looks exotic. Great for the abundance of cukes and tomatoes in the garden.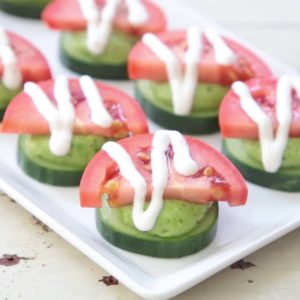 Ingredients
1 ripe avocado, peeled and pitted
½ cup fresh basil leaves
1 tablespoon lime juice
1 clove garlic
¼ teaspoon salt
¼ teaspoon ground black pepper
1 cucumber, cut into ¼-inch slices
1 plum tomato, cut into ¼-inch slices
1 tablespoon plain yogurt, or to taste (optional)
Instructions
Blend avocado, basil, lime juice, garlic, salt, and pepper together in a food processor or blender until smooth.
Spread avocado mixture onto each cucumber slice and top with tomato slice and yogurt.
Watch the recipe video here: