Pad Thai Quinoa Bowl
This recipe uses quinoa which is gluten-free, high in protein and fiber, and has a nice nutty flavor. But you can always substitute for either rice or noodles. Take out the chicken and add extra edamame and you have a great vegetarian meal instead. Or add shrimp if you like. A seriously good, versatile recipe!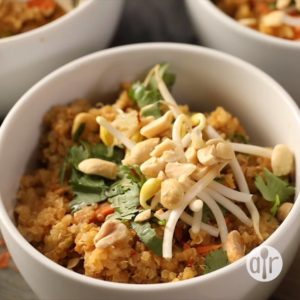 Ingredients
4 cups low-sodium chicken broth
2 cups quinoa, rinsed and drained
1 tablespoon coconut oil, divided
1 large boneless, skinless chicken breast, cut into thin strips
¾ cup shredded cabbage
½ cup edamame
¼ cup diced broccoli stems
2 carrots, cut into matchsticks
2 green onions, chopped
3 eggs
1 teaspoon sesame oil
Thai peanut sauce:
¼ cup natural peanut butter
¼ cup reduced-sodium soy sauce
3 tablespoons rice vinegar
2 tablespoons chili garlic sauce
2 tablespoons chopped fresh ginger
3 cloves garlic, minced
1 teaspoon sesame oil
½ cup salted peanuts, chopped
3 tablespoons chopped fresh cilantro
Instructions
Bring chicken broth and quinoa to a boil in a saucepan. Reduce heat to medium-low, cover, and simmer until quinoa is tender, 15 to 20 minutes. Set aside.
Heat 1½ teaspoons coconut oil in a wok or large skillet over medium-high heat. Add chicken; stir until cooked through; about 5 minutes. Remove chicken from wok. Heat remaining 1½ teaspoons coconut oil. Add cabbage, edamame, broccoli, carrot, and green onions and saute until vegetables soften slightly, 2 to 3 minutes.
Whisk eggs with sesame oil in a small bowl. Push vegetables to the sides of the wok to make a well in the center; pour eggs in and stir to scramble, about 3 minutes.
Combine peanut butter, soy sauce, rice vinegar, chili garlic sauce, ginger, garlic, and sesame oil together in a small bowl. Pour Thai peanut sauce over vegetable and egg mixture in the wok.
Return chicken to the wok and add quinoa; mix well to combine. Stir in chopped peanuts and cilantro and serve.
Watch the recipe video here: