Skillet Bread with Creamy Spinach Artichoke Dip
Indulge in every bite of this rich, chewy, ooey-gooey skillet bread with creamy spinach artichoke dip center.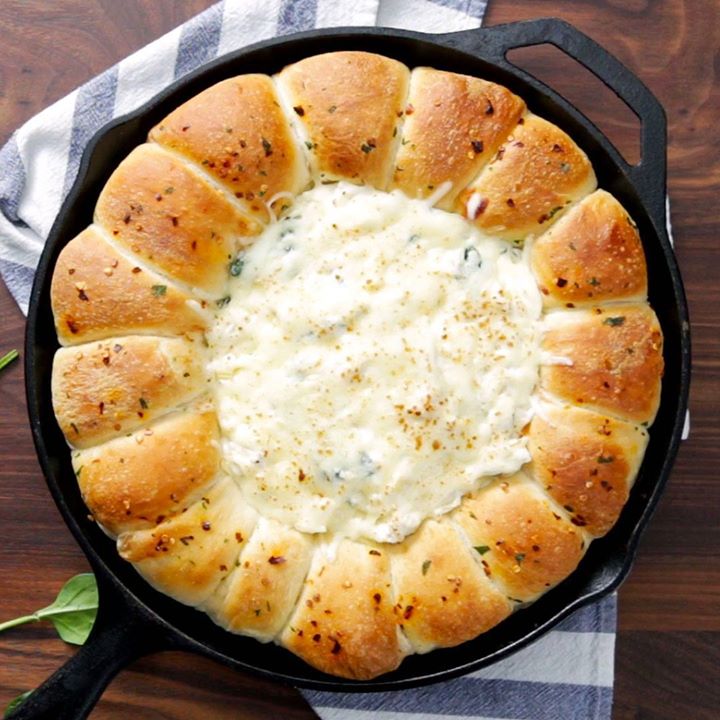 Ingredients
14 frozen dinner rolls, thawed
2 tablespoons extra-virgin olive oil
2 cups fresh baby spinach
1 (14-ounce) can artichoke hearts, drained and chopped
½ cup sour cream
¼ cup mayonnaise
8 ounces cream cheese, room temperature
½ teaspoon garlic powder
1 cup shredded mozzarella cheese
½ cup grated Parmesan cheese, divided
Salt and pepper, to taste
½ cup unsalted butter
2 teaspoons red chili flakes
1 tablespoon fresh parsley, chopped
Instructions
Preheat oven to 350 degrees
Spray a large cast-iron skillet with cooking spray, and place a small bowl top side down in the center of the skillet. Spray bowl with cooking spray, and arrange the bread rolls around the outside of the skillet. Cover with plastic wrap and let proof until doubled in size for about an hour.
In a medium nonstick skillet, heat the olive oil. Add the spinach and artichokes and cook until the spinach is slightly wilted. Add in the sour cream, mayonnaise, cream cheese, garlic powder, mozzarella cheese and half the Parmesan, stirring until the cheese melts, about 5 minutes. Season with salt and pepper.
In a small saucepan, melt the butter and add chili flakes and chopped parsley. Stir to combine.
Remove the bowl from the center of the cast-iron skillet and carefully spoon the dip into the center well. Brush the tops of the rolls with the melted butter mixture and sprinkle with the remaining Parmesan.
Bake for 20 to 25 minutes or until the rolls are golden brown and the dip is nice and bubbly. Let cool slightly, serve in the skillet and enjoy!
Watch the recipe video here: