Muddy Buddy Krispie Treats
These crunchy Muddy Buddy Krispie Treats are incredible! I mean, it's chocolate and peanut butter…what's not to love? You can't beat the fact that these literally only take five minutes to make! Super easy + super delicious = perfect combination. The powdered sugar on top just seals the deal. Make these ASAP! And try not to eat them all in one sitting.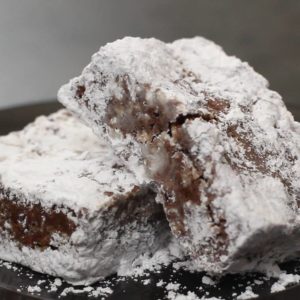 Ingredients
2 Tbsp Butter or vegetable oil
½ CUP Peanut butter
1 (10 ounce) bag Marshmallows
2 CUPS Chocolate chips
6 CUPS Crispy rice cereal
Powdered sugar, for dipping
Instructions
Spray 9×13 pan with nonstick cooking spray.
Place butter, peanut butter, marshmallows, and chocolate in a large bowl. Heat in 30 second increments, stirring between each, until the mixture is melted. Quickly stir in the rice krispies.
Press into prepared pan. Let them cool, then cut into squares.
Place about 1 cup powdered sugar in a bowl and coat each square with powdered sugar. Serve
Enjoy!
Watch the recipe video here: