Oat and Apple Pancakes with Yogurt and Honey
Oat and Apple Pancakes with Yogurt and Honey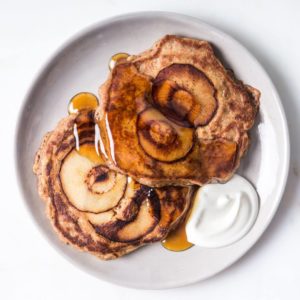 Ingredients
1 cup whole wheat flour
¾ cup old-fashioned oats
¼ cup finely chopped pecans or almonds
1 teaspoon baking powder
1 teaspoon baking soda
½ teaspoon ground cinnamon
½ teaspoon kosher salt
1 large egg
1¾ cups buttermilk
2 tablespoons pure maple syrup, plus more for serving
2 tablespoons virgin coconut oil, melted, slightly cooled, plus more for skillet
1 medium apple (such as Granny Smith or Pink Lady), peeled, cored, sliced crosswise ¼ inch thick
Plain yogurt (for serving)
Instructions
Whisk flour, oats, pecans, baking powder, baking soda, cinnamon, and salt in a large bowl. Whisk egg, buttermilk, 2 Tbsp. maple syrup, and 2 Tbsp. oil in a medium bowl; mix into dry ingredients.
Heat a griddle or large nonstick skillet over medium; brush with oil. Place 2 apple slices in skillet, spacing about ½" apart, and cook until lightly golden, about 1 minute. Turn over and pour ⅓ cup batter over apples, spreading batter to cover. Cook pancake until bottom is golden brown and bubbles form on the surface, about 3 minutes. Flip and cook until cooked through and other side is golden brown, about 2 minutes. Transfer to a plate. Repeat with remaining apple slices and batter, brushing griddle with more oil as needed.
Serve pancakes with yogurt and more maple syrup.
Watch the recipe video here: