Creme Brûlée Sugar Cookies
Caramelized sugar is our new favorite frosting sub.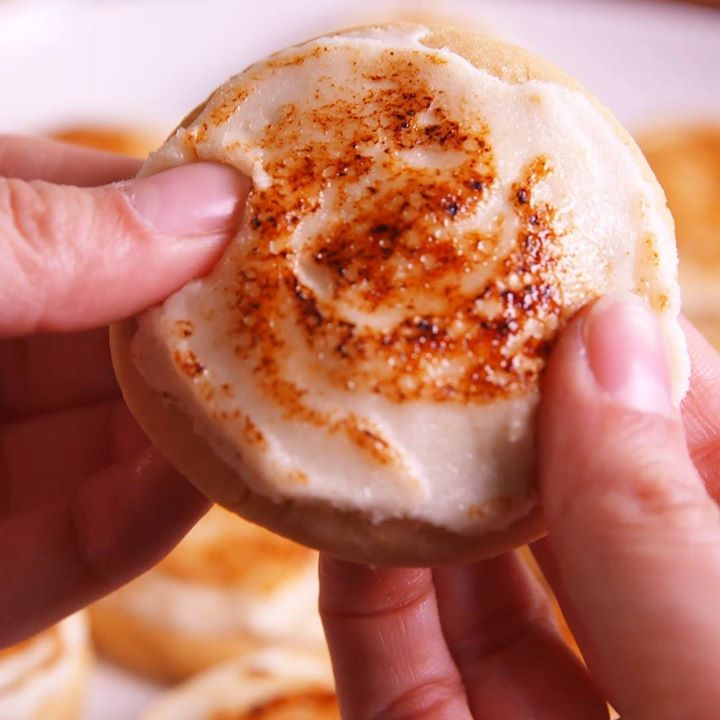 Ingredients
FOR THE COOKIES
¾ c. unsalted butter, softened
½ c. light brown sugar, lightly packed
½ c. sugar
1 large egg
1 tbsp. pure vanilla extract
2 c. all-purpose flour
2 tsp. cornstarch
1 tsp. baking soda
¼ tsp. kosher salt
FOR THE FROSTING
8 oz. cream cheese, softened
1¼ c. powdered sugar
1 tsp. pure vanilla extract
¼ c. sugar
Instructions
Preheat oven to 350° and line two cookie sheets with parchment. Cream butter and sugars until light and fluffy, 3 to 4 minutes. Mix in egg and vanilla.
In another bowl, whisk together flour, cornstarch, baking soda and salt, then add mixture to wet ingredients and mix until smooth. Dough will be thick.
Place tablespoon balls of dough onto parchment-lined cookie sheets. Bake until edges are starting to brown, 7 to 8 minutes.
Remove from oven and let cool 2 to 3 minutes, then transfer to a cooling rack to cool completely.
Make frosting: Beat cream cheese until smooth. Add powdered sugar and vanilla and mix until smooth.
Put sugar into a small bowl. Spread some frosting onto tops of each cookie, then press into granulated sugar, coating frosting with sugar.
Just before serving, use a kitchen torch to caramelize sugar on top, then set aside to cool. If you don't have a kitchen torch, heat broiler and broil cookies until sugar caramelizes, 1 to 2 minutes (watch carefully!). Store cookies in the fridge for up to 4 days.
Watch the recipe video here: