Cheesecake Stuffed Cookies
Have your cheesecake and your cookie too.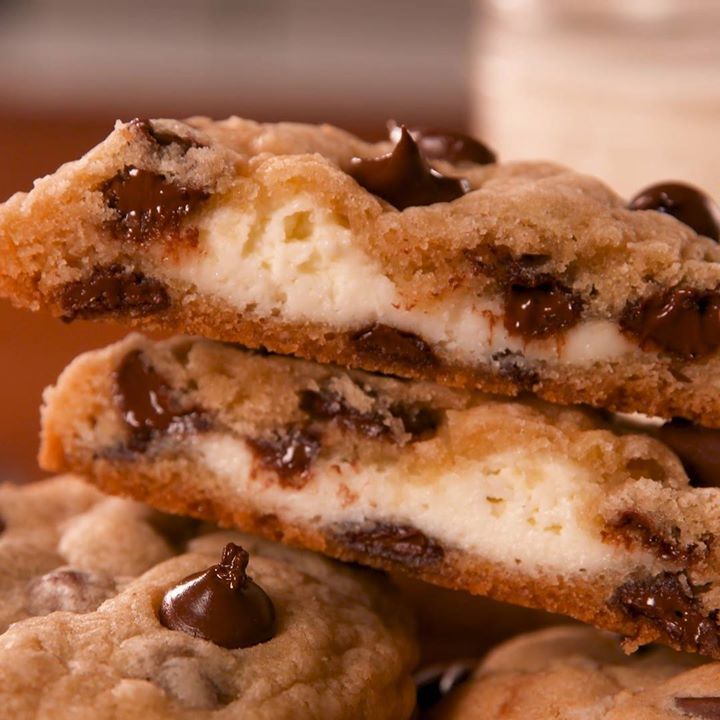 Ingredients
FOR THE COOKIES
2½ Sticks unsalted butter, softened
1 c. brown sugar
½ c. granulated sugar
2 tsp. vanilla extract
2 large eggs
2¾ c. all-purpose flour
1 tsp. baking soda
¾ tsp. salt
2 c. semisweet chocolate chips
FOR CREAM CHEESE FILLING
12 oz. cream cheese, softened
½ c. powdered sugar
pinch of salt
Instructions
Preheat oven to 375º and line a large baking sheet with parchment paper.
Make cheesecake filling: Combine cream cheese, powdered sugar and salt in a small bowl. Mix well until mixture is smooth. Cover with plastic wrap and refrigerate until slightly firm, about 30 minutes.
Make cookie dough: Using an electric mixer, beat butter and sugars until light and fluffy, about 2 minutes. Slowly beat in vanilla extract and eggs.
In a separate bowl, mix flour, baking soda and salt. Stir into butter-sugar mixture. Fold in chocolate chips.
Make cookies: Scoop about a tablespoon of the cookie dough and flatten into a flat, pancake-like circle. Spoon about 2 teaspoons of the cheesecake filling in the center. Form another tablespoon of cookie dough into a flat circle and place on top of filling. Pinch the edges together to seal, then roll the filled dough into a ball.
Bake cookies for 12 to 15 minutes, or until lightly golden.
Watch the recipe video here: