2-Layer Tres Leches Cake
2-Layer Tres Leches Cake recipe.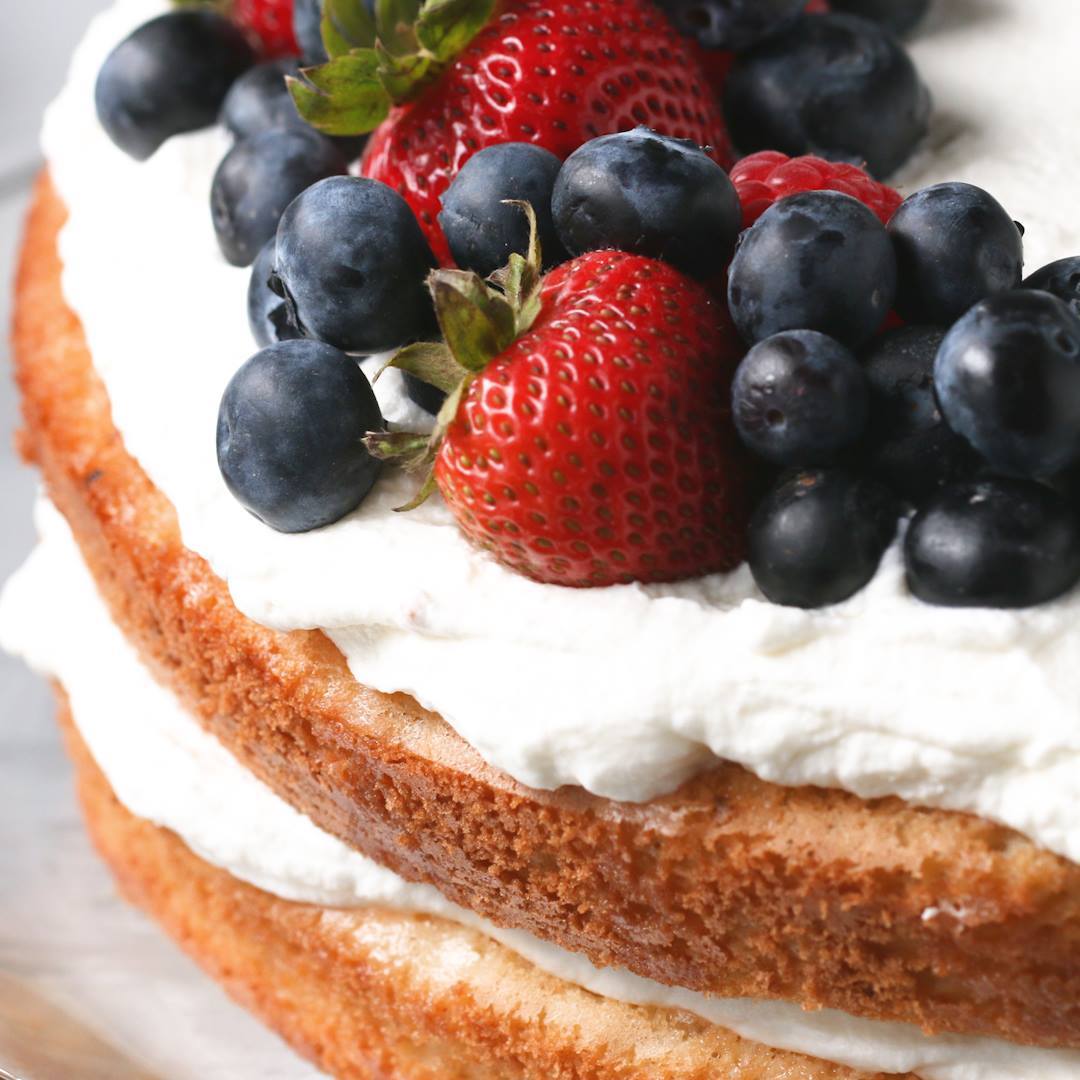 Ingredients
1 ¾ cups all-purpose flour (220 g)
1 tablespoon baking powder
¾ teaspoon kosher salt
¼ teaspoon ground cinnamon
6 large eggs
1 ¼ cups granulated sugar (250 g)
¼ cup whole milk (60 mL)
½ teaspoon vanilla extract
nonstick cooking spray, for greasing
½ cup evaporated milk (120 mL)
½ cup coconut milk (120 mL)
14 oz condensed milk, 1 can (395 g)
2 cups heavy whipping cream (480 mL)
¼ cup powdered sugar (30 g)
assorted berries, for serving, optional
Instructions
Whisk the flour, baking powder, salt, and cinnamon together in a medium bowl.
In a separate large bowl, beat the eggs and sugar together with an electric mixer until light, fluffy, and nearly doubled in size, 6-8 minutes.
Using a spatula, gently fold in the flour mixture until just combined (some streaks of flour are okay).
Preheat the oven to 350°F (180°C).
Combine the milk and vanilla extract in a liquid measuring cup or small bowl, then gently fold into the batter, mixing just to blend.
Spray 2 9-inch (23 cm) round cake pans with nonstick cooking spray. Divide the batter between the pans.
Bake until the cakes are golden brown around the edges and spring back slightly when pressed in the center, about 20-25 minutes.
While the cakes are baking, combine the evaporated milk, coconut milk and condensed milk in a liquid measuring cup or small bowl and whisk to blend.
Once the cakes are done, immediately remove the cakes from the pans and invert them onto a wire rack or baking sheet. Cool for 2 minutes. Then, poke the cakes all over with a fork.
Return the cakes to the pans. Drizzle the condensed milk mixture over the cakes, letting it soak in. Let sit for 15 minutes.
In a medium bowl, whip the heavy cream and powdered sugar with an electric hand mixer until stiff peaks form.
Carefully transfer one of the cakes to a cake stand.
Spread a layer of the whipped cream over the cake. Place the other cake on top and spread with the remaining whipped cream.
Decorate with berries, if desired.
Slice and serve.
Enjoy!
Watch the recipe video here:
Double the layers, double the delicious! ? Full Recipe: https://tasty.co/recipe/2-layer-tres-leches-cake

Posted by Tasty on Sunday, September 16, 2018