Rainbow-Filled Doughnuts
If you like vanilla cream-stuffed doughnuts, you'll love this colorful twist on a favorite.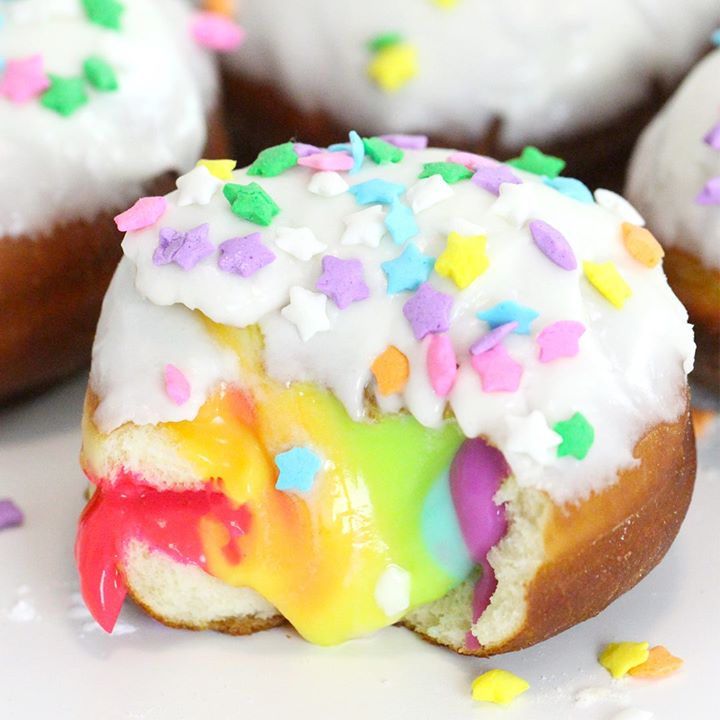 Ingredients
2 tablespoons active dry yeast
½ cup warm water
1 teaspoon granulated sugar
2½ cups all-purpose flour
¼ cup granulated sugar
2 large eggs
2 tablespoons unsalted butter, room temperature
2 teaspoons salt
Canola oil
Filling:
2½ cups vanilla pudding
Rainbow food colouring
Glaze:
1½ cups confectioner's sugar
½ cup whipping cream
Rainbow sprinkles
Instructions
Make the doughnuts:
Place the yeast, warm water and 1 teaspoon granulated sugar into the bowl of an electric mixer fitted with the dough hook attachment. Allow this to sit for 10 minutes, until the yeast begins to develop. Add the flour, ½ cup sugar, eggs, butter and salt. Set the mixer to medium speed and knead for 8-9 minutes, until the dough is smooth, soft and bounces back when poked with your finger. Place the dough in an oiled bowl and cover with plastic wrap. Place in a warm spot until doubled in size, about 1 hour. Roll the dough out to ¼ inch-thick and cut into 2½ inch-wide circles with a cookie cutter. You should be able to get 15-20 doughnuts. Transfer the doughnuts to a lightly floured baking sheet and cover with a sheet of plastic wrap. Place in a warm spot and let rise for 20 minutes. Pour about 5 inches of canola oil into a pot and set to medium heat. Attach a deep-fry thermometer and heat the oil to 370F. Fry 3 or 4 doughnuts at a time, cooking for 1 minute on each side or until golden. Remove the doughnuts from the oil with a slotted spoon and place on a baking sheet lined with paper towel. Cool completely.
Make the glaze:
Combine the confectioner's sugar and whipping cream in a bowl. Set aside.
Make the filling:
Divide the pudding into 6 bowls and dye them the colours of the rainbow. Place the pudding into piping bags fitted with round piping tips.
Assembly:
Poke holes in each doughnut with the end of a fork. Squirt a dollop of each colour of pudding into each doughnut in the colour of the rainbow. Dunk the doughnuts into the glaze, then sprinkle with rainbow sprinkles. Enjoy!
Watch the recipe video here:
What's it like to have a rainbow explode in your mouth? Just take a bite.Save this recipe: taste.md/2n4sagy ?: pankobunny

Posted by Tastemade on Tuesday, January 9, 2018