Marbled No-Bake Blueberry Cheesecake
The best desserts are irresistible without requiring much prep, and this fruit-filled creamy concoction really takes the (cheese)cake.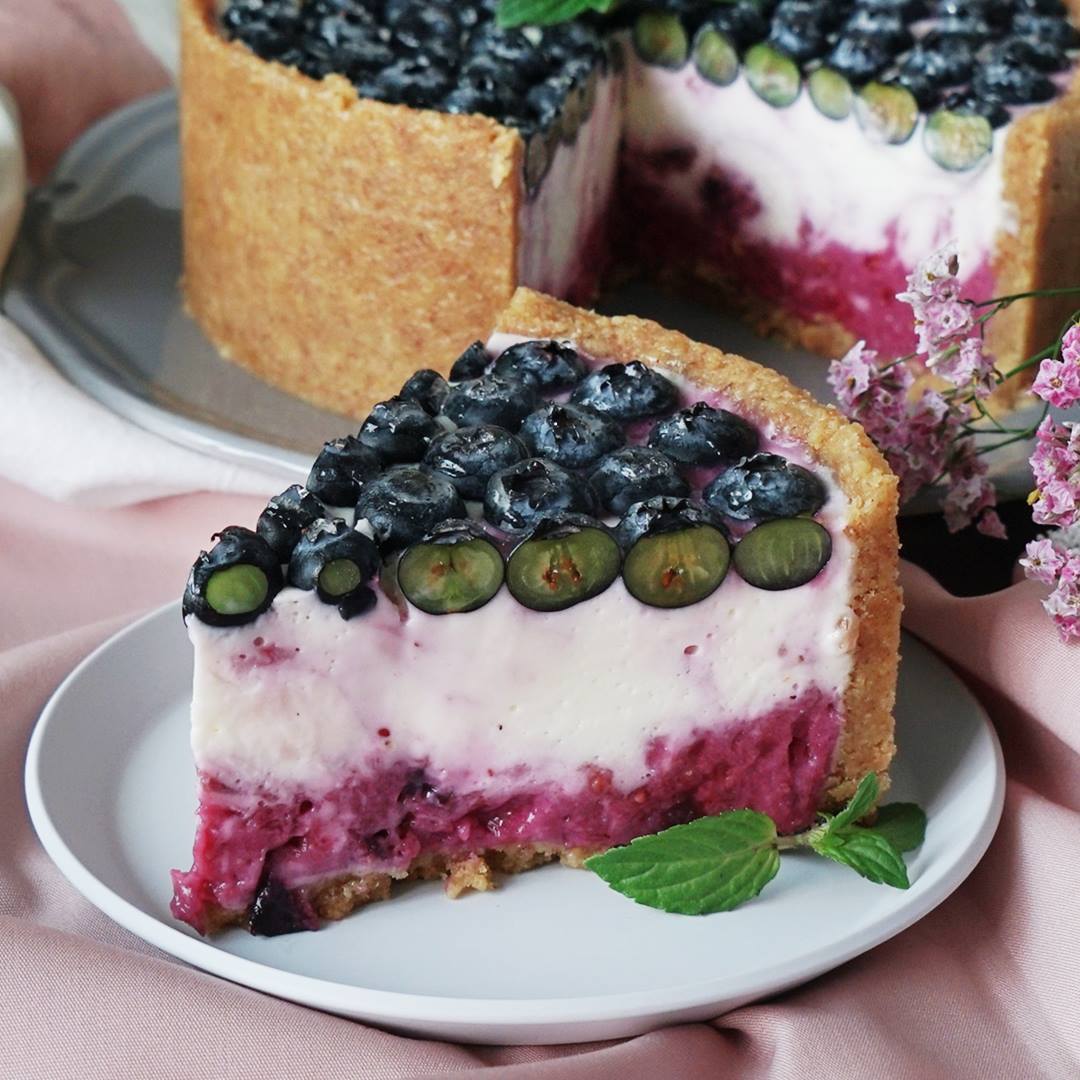 Ingredients
Cheesecake:
200 grams cream cheese
100 grams plain yogurt
100 milliliters heavy cream
30 grams sugar
2 tablespoons lemon juice
8 grams gelatin (combine with 30 milliliters water and let it sit for 5 minutes)
Berry sauce:
80 grams strawberries
50 grams blueberries
50 grams raspberries
40 grams sugar
2 teaspoons lemon juice
2 grams gelatin (combine with 15 milliliters water and let it sit for 5 minutes)
Crust:
150 grams biscuit
80 grams butter, melted
Garnish:
Instructions
Crush biscuit until it resembles coarse sand. Combine with melted butter and press into the bottom of a cake pan. Refrigerate until firm.
Put the berries into a ziploc bag and smash into tiny bits with a rolling pin. Transfer to a bowl. Add sugar and lemon and mix well. Microwave for 3 minutes at 600 watts.
Microwave gelatin in the microwave for 15 seconds at 600 watts. Add to berry mixture and mix well.
In a blender, combine all ingredients for the cheesecake and mix well until smooth.
Pour ⅓ of the cheesecake mixture into the berry sauce and mix well.
Pour a little of the berry sauce into the cake pan, followed by a small amount of the cheesecake mixture. Continue to pour in the mixtures alternating in between. Give it a quick mix with a spoon to create a marble effect.
Top with blueberries and refrigerate for 2-3 hours.
Watch the recipe video here:
Marbled No-Bake Blueberry Cheesecake

Looking for the perfect red white & blue dessert? This creamy concoction really takes the (cheese)cake.Taste for Yourself: taste.md/2tu2j3V?: Tastemade Japan

Posted by Tastemade on Tuesday, June 26, 2018